Autopsy report out, cow rustler died of injuries sustained in accident, say cops
Jan 31, 2023 12:09 AM IST
The Nuh police on Monday said a suspected cow smuggler, who died on Saturday following a chase by cow vigilantes that ended in the smugglers' car colliding with a van, had succumbed to internal injuries allegedly sustained in the accident, as per the post-mortem report that came on Monday evening
The Nuh police on Monday said a suspected cow smuggler, who died on Saturday following a chase by cow vigilantes that ended in the smugglers' car colliding with a van, had succumbed to internal injuries allegedly sustained in the accident, as per the post-mortem report that came on Monday evening..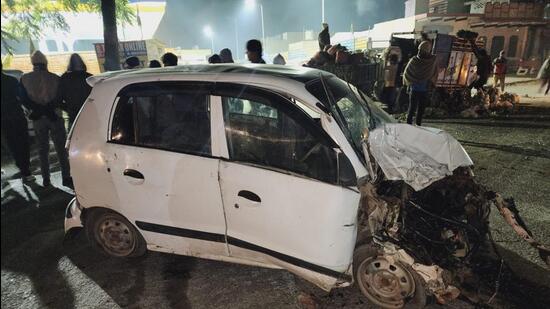 According to police, Waris Khan (22) and his two accomplices, Nafis and Shaukeen, had allegedly lifted a cow for slaughter and were escaping with the animal in their Santro car when they hit a van on the Tauru-Bhiwadi Road on Saturday morning, allegedly after being chased by a team of cow vigilantes.
A few hours after the accident, Khan died during treatment while his two accomplices survived with minor injuries. It was Khan who was driving the car, police said.
ALSO READ: Seven booked for killing pregnant cow in Nawabganj
The dead man's family alleged on Sunday that Khan had died after being assaulted by the cow vigilantes. On Monday, too, the family refused to buy the police's version and insisted that Khan was fatally assaulted by vigilantes.
Khan's brother Imran said,"There are videos in which the vigilantes could be seen assaulting the trio. Why were they not taken to a hospital in a police vehicle instead of being taken in the vigilantes' SUV? We don't know what they did to my brother on the way. Who had authorised them to act in such a way? Why is no one questioning the police on this issue?"
ALSO READ: Those involved in religious conversions will never succeed: Yogi Adityanath
Imran said Khan was a car mechanic and had left home on Friday night to go to Bhiwadi to repair a vehicle from their village in Hussainpur.
Varun Singla, Nuh superintendent of police, said they received the post-mortem report on Monday evening which made it clear that Khan died of internal injuries or blunt force trauma, sustained in the accident.
"His liver had ruptured causing internal bleeding. There was no external injury on his body, including abdomen," he said.
Singla said the allegation that Khan was assaulted by cow vigilantes was baseless.
ALSO READ: All problems of Earth will vanish when cow slaughter is stopped: Gujarat court
"It was the vigilantes who extricated the three suspects from the car following the accident and handed them over to police.They were rushed to the hospital in a private vehicle. Vigilantes and Abdul Karim, the driver of the van that crashed with the Santro, had alerted police soon after the accident. A cow with a fractured leg was also recovered from the car," he said, adding that there was no high-handedness in the case.
On complaint of the van driver, an FIR against the trio was registered under sections 279 (rash driving), 337 (acting rashly or negligently as to endanger human life or public safety of others), 304A (causing death by negligence), 427 (mischief causing damage), 429 (mischief by killing, poisoning, maiming or rendering cattle useless) of the Indian Penal Code, and relevant sections of the Prevention of Cruelty to Animals Act and The Haryana Gauvansh Sanrakshan and Gausamvardhan Act at the Sadar Tauru police station on Saturday evening, said police.