H-Rera restrains bank from e-auctioning of commercial project
Jan 24, 2023 12:46 AM IST
Gurugram: The Haryana Real Estate Regulatory Authority (H-Rera), Gurugram, on Monday restrained a public sector bank from proceeding with the e-auction of a commercial real estate project that was scheduled on January 24
Gurugram: The Haryana Real Estate Regulatory Authority (H-Rera), Gurugram, on Monday restrained a public sector bank from proceeding with the e-auction of a commercial real estate project that was scheduled on January 24.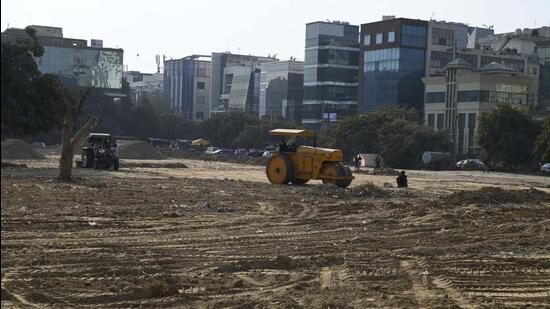 The authority said that the bank was auctioning CHD E-Way Tower in Sector 109, while the dues of the property owners are still pending.
The order said, "Bank of Baroda is restrained from the proceedings with the e-auction dated 24/01/2023 for not considering and settling the claims of individual allottees." The order has been passed under section 36 of RERA Act, 2016, it said.
"An audit of the accounts of CHD Developers Limited needs to be done to bring out a clear picture of the utilisation or diversion of funds with respect to the project, if any," said the order.
H-Rera, Gurugram took the decision following a complaint by a property owner, who had invested in the CHD E-way Tower, a commercial real estate project.
The bench has also directed the H-Rera planning branch to initiate proceedings against the developer for non-registration of the project under section 3 and 4 of the Rera Act.
A complaint in this regard was filed on January 20, 2023, the authority said.
Dr KK Khandelwal, H-Rera, Gurugram chairman said, "In view of the larger interest of the allottees, we have stayed the e-auction of the bank. We are custodians of the Act and want to protect the interest of allottees".
As per the authority, the complainant had booked a unit in the commercial project at Sector 109 for a total sale consideration of ₹35 lakh, executing a builder-buyer agreement (BBA).
The order said, "In the meantime, the allottees were apprised by promoters as well as through newspaper advertisement that the land on which the project is situated (measuring 2.025 acres) in Sector 109 is being sold by Bank of Baroda by way of e-auction on 24/01/2023 wherein all the allottees share their reserved rights by virtue of the BBA. It is submitted that the rights created for the allottees are absolute and cannot be fettered with by a third party by selling or creating any lieu change or encumbrance."
Seeking a stay on the e-auction, the complainant during the hearing argued that the bank has not only violated section 15 of the Rera Act, but was trying to harass them and jeopardise the rights of the allottees.
"The third-party rights which have already been created in the project in question have not been taken into account by the Bank of Baroda and it will seriously jeopardise their interest and it must be stayed," pleaded the complainant.
A spokesman for CHD Developers said that they are trying to resolve the matter. "We need some flexibility from the bank and from the authorities to bring this project back on track by transferring the licence to a new developer," he said.