Land transfer for AIIMS completed, says Union health minister
Feb 04, 2023 11:32 PM IST
Gurugram: Union health minister Mansukh Mandaviya on Saturday said that land for construction of AIIMS hospital at Majra village in Rewari has been handed over to the health ministry, and the process for tendering the project has been initiated
Gurugram: Union health minister Mansukh Mandaviya on Saturday said that land for construction of AIIMS hospital at Majra village in Rewari has been handed over to the health ministry, and the process for tendering the project has been initiated. Mandaviya, who was in Gurugram to participate in 'Budget Pe Charcha' being organised by the central government said that Haryana will soon get another AIIMS hospital, which will provide state of the art healthcare facilities to the people.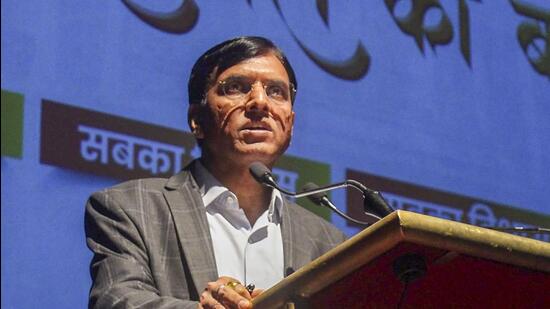 "The land for AIIMS in Rewari was transferred by Haryana government and the procedure was completed last week. The CPWD has been appointed to complete the proces of tendering," he said.
Earlier on Thursday, Gurugram MP Rao Inderjit Singh had called upon the union health minister and discussed the proposed issue of AIIMS hospital in Rewari. Singh said that he has taken up the issue of land transfer with the state government.
This proposed AIIMS hospital in Rewari will have 750 beds. It will have medical College, nursing college, ICU and special facilities. It will cater to around 1500 patients daily. It will also have a guest house, auditorium, hostel and residential facilities.
Referring to the union budget presented this year, Mandaviya said that this budget had created a roadmap of the next 25 years for the country. It takes into account various issues such as infrastructure development, welfare of the poor, employment for youth and empowerment of the weaker sections. He also said that this budget had connected the health sector with country's development and a large scale increase in health education infrastructure has been planned.
The union minister said that the Modi government has decided to increase the undergraduate and postgraduate seats in the medical education sectors. "The Ayushman Bharat scheme is being expanded to bring more people under its ambit and it has also been decided to open 157 new nursing colleges in the country so that trained medical staff is available to provide quality healthcare," he said.
BJP state president OP Dhankhar, former cabinet minister Abhimanyu, and senior state BJP functionaries were present at the event.