Man hit while crossing road, run over by multiple vehicles on NH-48
Feb 02, 2023 11:49 PM IST
By the time the police were alerted and reached the spot, the body was mutilated beyond recognition and parts were scattered over at least a 100m radius on the Delhi-Jaipur carriageway
A 35-year-old man crossing the Delhi-Jaipur carriageway of National Highway 48 died after being hit by an unidentified vehicle near Iffco Chowk early on Thursday morning, and then was run over by multiple vehicles who did not spot the fallen body because it was still dark at the time.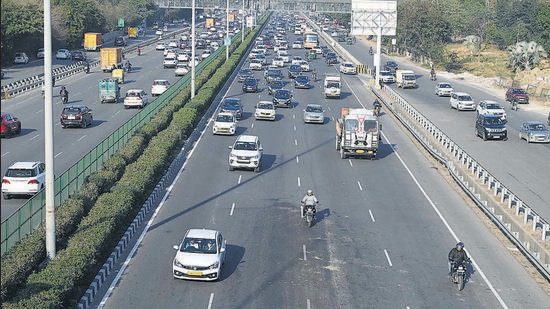 By the time the police were alerted and reached the spot, the body was mutilated beyond recognition and parts were scattered over at least a 100m radius on the Delhi-Jaipur carriageway.
Police identified the man as Ramesh Nayak, a school bus driver based in Delhi, who was travelling by bus from his home in Mohan Garden in Dwarka to Jaipur to meet his sister. The police said that he suddenly changed plans midway as he was feeling unwell, and informed his family at around 4.15am that he was returning home to Delhi.
Police said the accident took place on the carriageway towards Jaipur between 4.15am and 5.15am. Nayak must have crossed the highway on foot so that he could arrange transport to return to Delhi from the opposite side of the road, police said.
But after an unidentified vehicle ran him over, several others coming from behind failed to spot the body in the dark and went over it. A commuter spotted the remains and alerted the police control room about the accident.
They said that an emergency response vehicle (ERV) reached the spot at 5.30am and confirmed that it was a road accident that killed the man. The police suspect that he was first run over by either a truck or a bus.
"We tried to identify the man using mobile phone but it was broken. Later, we found his wallet which also had a piece of paper with a phone number written on it. We rang that number and it turned out to be of his family in Delhi," a police officer aware of the matter said.
Investigators said Nayak's younger brother reached the city and identified the body with the help of the clothes.
"My brother was not feeling well and had informed his father-in-law and our sister on phone around 4.15am that he was cancelling his trip to Jaipur and returning home to Delhi. He had left home around 10pm on Wednesday," he said.
Nayak's father-in-law Ramesh Kumar, said, "He called me from near Iffco Chowk. I had asked him to return when he told me he was shivering."
Nayak is survived by his parents, wife, two daughters, aged 10 and three years, and a five-year-old son.
Inspector Satyender Kumar, station house officer of the DLF Phase-2 police station, said, "There was no CCTV camera anywhere near the spot. Still, we are trying to gather clues to identify the vehicle that hit him."
On a complaint filed by Nayak's brother, an FIR was registered against an unidentified driver under section 279 (rash driving or riding on public way) and 304A (causing death by negligence) of the Indian Penal Code at DLF Phase-2 police station on Thursday.
According to Gurugram traffic police, 162 pedestrians died in 161 cases of road accidents in 2022 while in 2021, 122 pedestrians were killed in 113 accidents in Gurugram.