Gurugram civic body rejigs registration of pets, licence now for 3 years
Feb 03, 2023 12:11 AM IST
MCG said it has started the process to streamline pet registration and has already given licences to owners of 750 pets, said officials
The Municipal Corporation of Gurugram (MCG) has amended the dog registration process to extend validity period of licences issued to owners from the current one year to three years. The new norms will come into effect from April 1, civic officials said.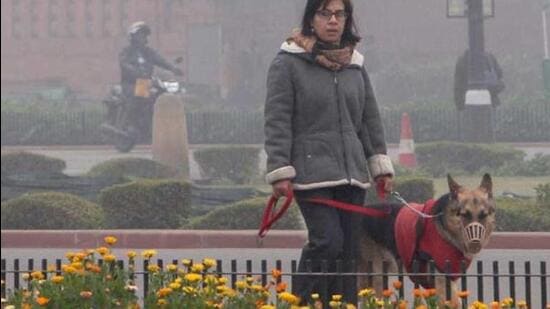 PC Meena, MCG commissioner, wrote to principal secretary, urban local bodies, on January 29 requesting the changes and they were approved on Tuesday, officials said, adding that any violation by a pet owner would result in the licence being cancelled.
Meena said as per the provisions contained in by-law 3, the registration of dogs is done for a period of one year which is concurrent with the financial year. Accordingly, a metal token is issued to the registered dog for the duration of the year. "We were receiving requests from pet owners that in case they apply for registration during the tail end of the financial year; for example, in February/March, they have to apply again for a renewal of licence in April when the new financial year starts. They requested that the licence be made valid for at least two years," he said.
MCG said it has started the process to streamline pet registration and has already given licences to owners of 750 pets, said officials.
The civic body brought the registration process under its senior medical officer in the first week of January, while earlier it was overseen by the deputy municipal commissioner. A complete overhaul of the pet registration process in the city was triggered by a controversial order by the district consumer dispute redressal forum, issued on November 15, 2022, in a case of dog bite.
It ordered MCG to pay an interim compensation of ₹2 lakh to the female victim, besides asking the civic body to impound all community dogs. It further directed that licences be granted for a fee of at least ₹12,000 with a yearly renewal fee of not less than ₹10,000.
The forum also banned 11 foreign breeds and directed MCG to make registration of pet dogs mandatory from November 15, 2022, and to ensure that all pets within its jurisdiction are registered.
The order drew flak from pet owners and animal rights activists, and the Punjab and Haryana high court, in the last week of December 2022, stayed the order. The court directed MCG to file an affidavit on steps taken to register pets, details of registered dogs and the fee collected.
Dr Ashish Singla, senior medical officer (SMO) of MCG, said there were only 100 licences issued until November 15 and since then, 750 more pets have been registered. He said they have approached all the residents' welfare associations (RWAs) to urge residents to get pets registered.
"A separate team has been formed for handing the process, which has been streamlined so that residents don't face any difficulty while applying for a licence. We verify documents and background of owner before issuing the licence," said Singla.
Singla said that a pet owner has to ensure that the pet has all requisite vaccinations as instructed by a veterinary surgeon. "Also, the owner will have to ensure that the dog wears a collar with the metal licence token attached to it. The animal must be kept on a leash in public places and precautions taken to ensure that it does not bite anyone. The pet owner will also ensure that he/she carries an eco-friendly disposable bag for disposing of dog excreta," he said.
Singla further said if any RWA representative submits files in bulk for registration, then MCG staff will complete all necessary processes and deliver licences to the doorstep
Singla said that on December 23, they had issued another public notice, directing all residents to get their pet dogs registered with immediate effect. "The first-time pet registration fee is ₹500 and ₹250 for renewals. Pet owners can register on Saral Haryana portal or can visit the citizen facilitation centre at MCG's old office," he said.
Singla said residents need to submit the vaccination records of their dogs along with the registration form while applying for a licence.