Residents protest against potholed road in Sector 93
Jan 29, 2023 10:11 PM IST
Gurugram: With school bus drivers refusing to ply on a pothole-ridden stretch and parents being compelled to walk their children a long-distance for school transport, residents of Gurugram's Sector 93 protested outside Spaze Privvy housing society on Sunday morning
Gurugram: With school bus drivers refusing to ply on a pothole-ridden stretch and parents being compelled to walk their children a long-distance for school transport, residents of Gurugram's Sector 93 protested outside Spaze Privvy housing society on Sunday morning.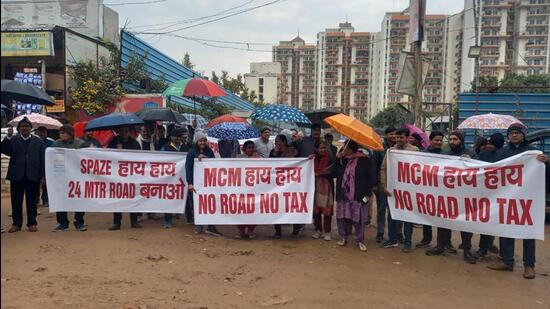 Hundreds of residents gathered at the main gate of the society to protest and said that they have been silently suffering for the last six months as delivery agents and cab drivers refuse to cater to people living along the stretch. They added that the situation worsened since the start of this year when school bus drivers cited the potholes as reason to refuse driving down till the society gate.
Virender Sharma, president of the residents' welfare association (RWA) at Spaze Privvy, said that the situation is only worsening by the day. "Even school buses refuse to come to the main gate. We are helpless due to the neglect of the civic agencies who have ignored our repeated complaints," he said.
Sharma said that the condition of the road worsened after it was dug up for laying sewer pipelines. "The stretch was never repaired. From Monday, we plan to stage a dharna outside the Municipal Corporation of Manesar (MCM) office until the road is repaired," he added.
The MCM, however, assured quick resolution of the problem. A senior MCM official said a tender has already been awarded for repairing the road. "The road will be re-laid soon and we have already informed the residents about it," he said.
But residents are not convinced. "Each time we raise a complaint, the civic body assures us that repair work will begin in a day or two. But they never keep their word and we've been suffering for the last six months", said NP Garg, a resident of the housing society.
Another Spaze Privvy resident, Sumit Minni said, "What is the point of paying taxes if the government cannot even provide us basic amenities," he said.
Gurugram deputy commissioner Nishant Kumar Yadav said that a team will visit Sector 93 and will direct the MCM to start repairing the road at the earliest. "We will ensure the issue is resolved soon. Also, if needed, we will request schools to cooperate and send drivers till the main gate of the Spaze Privvy housing society," he said.