With view to end flooding, GMDA to de-silt old sewer lines using new tech
Feb 01, 2023 12:10 AM IST
The Gurugram Metropolitan Development Authority (GMDA) approved a proposal for de-silting sewer lines and strengthening them with cured-in-place pipe (CIPP) lining during the 56th meeting of its weekly core planning cell (CPC) on Tuesday, officials said
The Gurugram Metropolitan Development Authority (GMDA) approved a proposal for de-silting sewer lines and strengthening them with cured-in-place pipe (CIPP) lining during the 56th meeting of its weekly core planning cell (CPC) on Tuesday, officials said.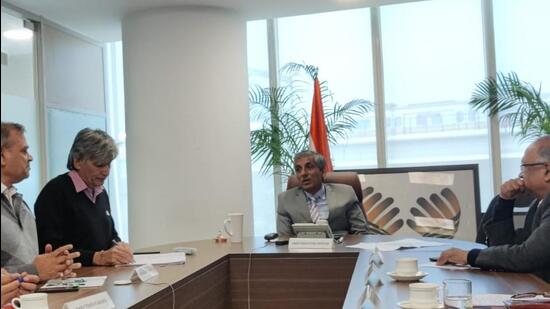 The city has been divided into four zones and proposals for zone-wise de-silting projects have also been submitted, officials said.
GMDA will also explore the option of establishing an in-house CCTV camera monitoring system for inspection of sewage-related work in real-time to better assess the ground situation, they added.
The CIPP lining is a method for the trenchless rehabilitation and restoration of existing pipes. Officials said that due to emission of gases and other chemicals, sewer lines get damaged over time. To strengthen these damaged sewer lines, CIPP technology is used, they said.
Sudhir Rajpal, GMDA chief executive officer (CEO), said various proposals pertaining to de-silting of the master sewer lines were presented by the Infra-2 division to ensure silt-free sewer lines in the city and to prevent overflow of sewage due to choked pipelines.
"The Infra-2 division has been directed to ensure that adequate measures are taken to establish a well-connected drainage network to address concerns of water-logging in the city during the monsoon," Rajpal said.
Rajpal instructed officials to ensure that checks are carried out on a regular basis to ensure that no master sewer line is closed or covered or their width reduced so that stormwater can flow freely and not flood the roads.
The CEO further said measures to ensure a clear and obstruction-free network of master sewer and drainage lines in the city have been taken up by GMDA and several proposals were approved on Tuesday. "Areas that require prompt attention are being looked into and our teams have been directed to address water-logging concerns in areas such as Narsingpur, Rajiv Chowk and Khandsa Chowk on a priority basis," he said.
The proposals to de-silt master sewer lines along sectors 48/49 along Sohna Road, sectors 49/66, 30/31, 40/41, 56/67 ,46/47, 43/53, 44/52, 45/52, 51/52, 46/51, 21/22, 22/23 and 23/23A along Mayfield Garden were approved, officials said.
Officials said that teams will also carry out CCTV surveys in Palam Vihar sectors 1,2 and 3 to address the complaints of overflowing sewers.