Demand for Gorkhaland: Hill parties launch Bharatiya Gorkhaland Sangharsh Samiti
Jan 24, 2023 11:43 AM IST
The GJM was one of the three signatories in the July 2011 Gorkhaland Territorial Administration (GTA) agreement. Gurung, who led the Gorkhaland agitation since 2007, settled for an autonomous Gorkhaland Territorial Administration in 2011
Gorkha Janmukti Morcha (GJM) president Bimal Gurung, Gorkha organisations and other political parties in the hill areas of north Bengal in a meeting in Kalimpong on Monday announced the formation of Bharatiya Gorkhaland Sangharsh Samiti (BGSS)– a committee to spearhead their demand for a Gorkhaland (a separate land for Gorkhas).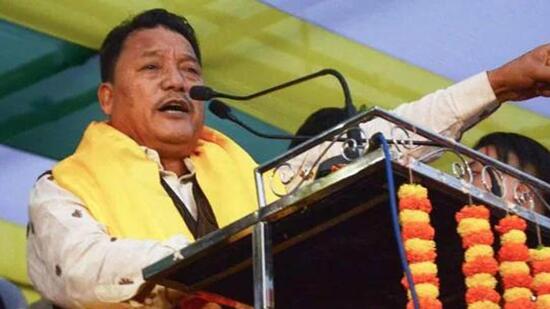 He said that the committee will not have allegiance to any political party, it would work entirely for the Gorkha community and its demand for Gorkhaland.
The committee would take up agitations from March, Gurung added.
The GJM has been trying to bring Indian Gorkhas under one platform to press the demand for Gorkhaland through 'collective leadership.'
Also Read: No tie-up without written assurances on Greater Tipraland: Barman
"The centre should call the BGSS for the meeting on Gorkhaland," said Gurung.
Gurung also said that his party was "withdrawing" as a signatory to the agreement and demanded the scrapping of Gorkhaland Territorial Administration (GTA), a semi-autonomous council for the Darjeeling and Kalimpong districts of West Bengal.
The GJM was one of the three signatories in the July 2011 GTA agreement. Gurung, who led the Gorkhaland agitation since 2007, settled for an autonomous Gorkhaland Territorial Administration in 2011.
The Samiti, Gurung said would take forward the Gorkhaland movement and would press the centre to fulfil the Bharatiya Janata Party's (BJP) 2019 election promise to find out a permanent political solution.
The BJP promised to find a permanent political solution for the region in its 2019 Lok Sabha election manifesto.
Also Read: Is governor waiting for 'muhurat' to sign reservation bills, asks Ch'garh CM
The Kalimpong meeting was attended by some top Gorkha leaders, including Hamro Party (HP) president Ajoy Edwards and Binoy Tamang, former chairman of the board of administrators in the GTA, who recently had left the Trinamool Congress (TMC) to form a team with Gurung and Edwards. Pradip (Bhupendra) Pradhan, a senior TMC leader and former GTA chairman, also attended.
"The GTA won't fulfil the aspiration of the Gorkhas and it is high time for the BJP to deliver its promises, including finding a permanent political solution," said Edwards.
The development in Darjeeling hills assumes political significance at a time when the centre is likely to hold talks with the Kamatapur Liberation Organization (KLO) and its chief Jiban Singha, who recently surrendered from Myanmar.