GJM withdraws from GTA agreement, voices demand for Gorkhaland
Jan 27, 2023 05:49 PM IST
The GTA agreement was signed by the Centre, the West Bengal government and GJM on July 18, 2011, leading to the formation of the GTA after the President of India gave his assent in March 2012
Darjeeling's Gorkha Janmukti Morcha (GJM) on Friday announced its withdrawal from the 2011 Gorkhaland Territorial Administration (GTA) agreement as one of the three signatories and set the ball rolling for another movement in demand for a separate state.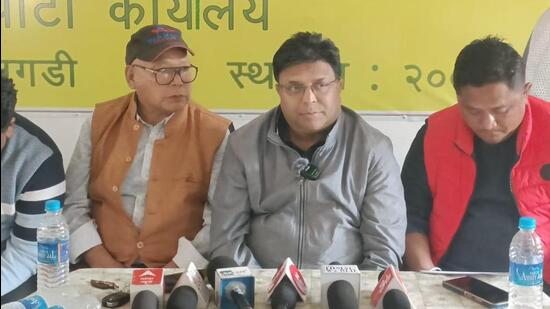 The GTA agreement was signed by the Centre, the West Bengal government and GJM on July 18, 2011, leading to the formation of the GTA after the President of India gave his assent in March 2012.
Roshan Giri, the GJM general secretary, signed the agreement on behalf of his party which was leading the Gorkhaland movement since 2007.
Also Read: GTA polls in Darjeeling hills to be held after 10 years
Addressing the media at Siliguri town on Friday, Giri said, "The GTA does not fulfil the aspirations of the people of Darjeeling, Kalimpong, Terai and the Dooars regions. Hence, I, as one of the signatories, withdraw all support from the GTA memorandum."
He said, "I have written to the President, the Prime Minister, the Union home minister and the chief minister, mentioning my decision. The letters have been dispatched via registered post."
The agreement was described in 2011 as one of the success stories of the Mamata Banerjee-led Trinamool Congress (TMC) government which came to power for the first time that year.
The signing was witnessed by Banerjee, the then union home minister P Chidambaram and GJM president Bimal Gurung.
Though GJM controlled the GTA from 2012 to 2017 the Bimal Gurung-led party has weakened substantially over the years.
The GJM recently joined hands with the newly-formed Hamro Party (HP) and other apolitical organisations to form the Bharatiya Gorkhaland Sangharsh Samiti (BGSS). It is a pan India body set up to raise the demand for a separate state for the Gorkha community.
Binoy Tamang, former chairman of the GTA board of administrators and former TMC leader and Pradip (Bhupendra) Pradhan, vice-president of the TMC's Darjeeling hills district committee have also joined BGSS.
Ajoy Edwards, the Hamro Party president and an elected sabhasad in the GTA, said, "I welcome GJM's decision to withdraw from the tripartite agreement. It does not meet the aspirations of Indian Gorkhas. Our central committee will meet soon to decide our next course of action."
Both Giri and Edwards said the Bharatiya Janata Party (BJP) must deliver on its 2019 electoral promise to find a permanent political solution for the Gorkhas.
"Only Gorkhaland can fulfil the aspirations of the community," said Giri.
The last GTA election was held in June 2022, and the Bharatiya Gorkha Prajatantrik Morcha won. Anit Thapa, its president, is now the chief executive of GTA.