JU prof, arrested for forwarding CM Banerjee's cartoon, discharged from case
Jan 20, 2023 04:13 PM IST
The professor forwarded the cartoon to members of the email group at his housing society in the southern outskirts of Kolkata.
A West Bengal court on Thursday discharged a case against Ambikesh Mahapatra, a professor of chemistry at Jadavpur University in Kolkata, who was arrested in 2012 for forwarding an email containing a cartoon spoofing chief minister Mamata Banerjee.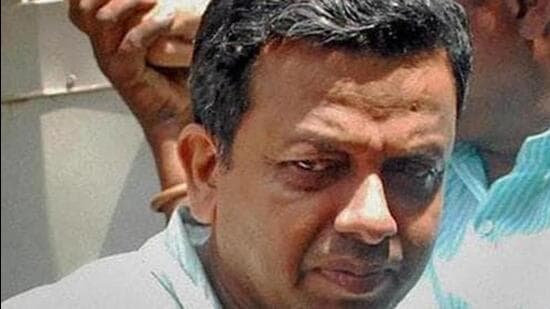 "The discharge petition by the accused petitioner Ambikesh Mahapatra is allowed. He stands discharged from case number C1810 of 2016 relating to Purba Jadavpur police station case no 50 dated 12 April 2012. The bail bonds are discharged accordingly," says the order of the additional session judge court.
Mahapatra was arrested on April 12, 2012, for forwarding a cartoon sequel based on Satyajit Ray's Sonar Kella after Mukul Roy was made the union railway minister replacing Dinesh Trivedi.
Also Read: Supreme Court collegium stresses on free speech, stands by elevations
He forwarded it to members of the email group at his housing society in the southern outskirts of Kolkata.
Subrata Sengupta, then a septuagenarian retired engineer and secretary of the housing society, was also arrested along with Mahapatra. Both were later released on bail, however, the case continued. Sengupta, who was ailing and had to undergo kidney surgery, died in 2019 at the age of 80.
The duo were charged under sections 66A (b) and (c) of the Information Technology Act, 2000.
In 2015, however, the Supreme Court struck down section 66A of the IT Act in the Shreya Singhal vs. Union of India case, citing it as unconstitutional.
Following the top court's verdict, on September 14, 2021, while hearing Mahapatra's petition for discharge, the chief judicial magistrate (CJM) of Kolkata's Alipore court, where the case is being heard, dropped the charge under Section 66A of the IT Act.
"The Supreme Court, while giving its judgement in a PIL had scrapped 66A of the IT Act in March 2015. The CJM court dropped the charges under 66A of the IT Act but the case dragged on till 2021. There was some influence on the case. I don't know where the influence was coming from," Mahapatra said.
Mahapatra recently moved the additional session judge, which discharged the case on Wednesday.
In 2012, though Mahapatra was released on bail hours after the arrest, the police action triggered a stir since it was the first of its kind in West Bengal.
"I was beaten and threatened by goons-backed by the ruling party (Trinamool Congress). Then I was arrested on the basis of a complaint. I was kept in lock up before I got bail," Mahapatra alleged.
Mahaptra and Sengupta moved the West Bengal Human Rights Commission (WBHRC) in 2012 alleging 'unlawful arrest and violation of liberty' and in August of that year, the WBHRC granted a compensation of ₹50,000 each and recommended departmental proceedings against two officers.
The duo also moved the Calcutta high court in 2013 after the state government rejected the WBHRC's recommendations.
In 2015, Calcutta high court too directed the state government to pay ₹50,000 to the Jadavpur University professor and his neighbour.
Meanwhile, the government faced an uproar from opposition parties, intellectuals, rights groups and citizens, who raised their voices against the 'unjustified' arrest of the professor.
Later a human rights group named Aakranta Aamra (we are the victims) was also formed with Mahapatra as its convenor.
Mahapatra also contested the assembly election in 2016 from the Behala Purbo constituency as an independent candidate but lost to former TMC heavyweight Sovan Chatterjee.
Also Read: SC protects filmmaker Leena Manimekalai from arrest over 'Kaali' poster
"It is a big relief and a moral victory after a long battle. But what about those who assaulted me? Will they not be arrested?" Mahapatra said while speaking to media persons.
Human rights activists and senior lawyers questioned how the case dragged on for seven years even after the SC verdict.
"He should have got discharged long back but the case was dragged just out of vendetta. This raises multiple questions about the police, political leaders and even the judiciary. It was a huge fight for democracy and citizens' rights," said Ranjit Sur, a human rights activist.
"The question which surfaced was how police can keep a person in lockup overnight in connection with a bailable offence. It was a violation of human rights. Later the human rights commission also ruled in his favour," Jayanta Narayan Chattopadhyay, senior advocate, told the media.
"I am surprised how the case got dragged even after the SC verdict. This government is so shameless and so vindictive that they are still threatening owners of various portals who raise their voices against the government. This government wants to stifle every dissenting voice," said Communist Party MP and senior advocate Bikash Ranjan Bhattacharya.
Also Read: 2012 graft case: Two Chandigarh horticulture dept staffers get 4-year RI
In September 2022, a YouTuber named Tuhin Mondol was arrested for allegedly uploading derogatory memes against Mamata Banerjee. The memes were being circulated on various YouTube channels by editing Banerjee's speeches. In June Youtuber Roddur Roy was arrested for uploading a video in which he made derogatory statements against Banerjee and her nephew Abhishek Banerjee.
This has also triggered a political slugfest between the Bharatiya Janata Party (BJP) and the Trinamool Congress (TMC).
"It is a victory for democracy. Mamata Banerjee should apologise publicly. It is a slap on the government and it should take lessons," said Rahul Sinha, BJP leader.
"We have nothing to say against the order or the court because we respect the judiciary. But those who are saying that democracy is being stifled should first check what's happening in Gujarat and Madhya Pradesh where the TMC spokesperson was arrested thrice in a month and journalist is stripped in a police station," said Santanu Sen, TMC MP.