Mamata Banerjee backs Amartya Sen on Visva-Bharati land dispute, attacks BJP
Jan 31, 2023 05:23 PM IST
Mamata Banerjee, who began a three-day tour of Birbhum, met 89-year-old Amartya Sen at his residence and handed over evidence from the state land records that will help counter the Visva-Bharati University.
KOLKATA: West Bengal chief minister Mamata Banerjee on Monday backed Nobel laureate Amartya Sen, dismissing the Visva-Bharati University claim that he was an unauthorised occupant at its sprawling campus at Santiniketan in Birbhum district.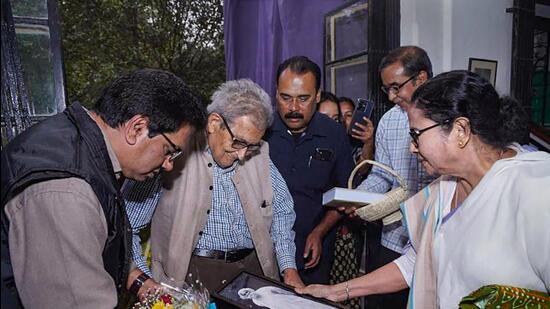 Banerjee, who began a three-day tour of Birbhum, met 89-year-old Amartya Sen at his residence and handed a state land and revenue department record showing that 1.38 decimal covered by the ancestral property belongs to him by virtue of a mutation executed in 2006.
Sen received the Nobel award in 1998 and was honoured with the Bharat Ratna by the Centre in 1999. His grandfather, Kshiti Mohan Sen, an eminent scholar, was a close associate of Rabindranath Tagore who set up Visva Bharati in 1921. Kshiti Mohan Sen was the second vice-chancellor.
Also Read: HC drops Mamata Banerjee's reference from PIL on remarks against President
According to vice-chancellor Bidyut Chakrabarty, Sen's father, Ashutosh Sen, a professor at Visva-Bharati, purchased only 1.25 decimal and the remaining 0.13 decimal should be returned to the university. A letter to this effect was sent to Amartya Sen on January 24.
Without naming Chakrabarty, the chief minister said: "I have been silently watching how an eminent citizen was being insulted all these days. I asked my officers to get the land records. I gave him proof that the land was transferred to his father in 1943. No man in the garb of the Bharatiya Janata Party should insult Amartya Sen."
"We look at Visva-Bharati through the eyes of Tagore, not through a saffron lens," said the chief minister. She also announced that Sen will be provided with Z plus category security cover by the state.
Also Read: I welcome criticism. It helps me learn, says Mamata Banerjee. BJP's comeback follows
Banerjee also referred to recent controversies involving the university.
"I don't want to see Visva-Bharati suspending students and teachers at the drop of a hat. I appeal to the Union education ministry to probe such atrocious acts. Visva-Bharati must apologise to the people for what has been done. Some students and campus residents will meet me tomorrow," said Banerjee, referring to agitations following the suspension of teachers and students at the university.
The Nobel laureate, who recently said Banerjee was among those who were fit to be India's prime minister, told a news channel on Monday that he has been targeted for his views on secularism.
"I don't think the steps chief minister took today will stop those who want to oust me from my home. There is politics behind this. I am a target because I voice my views on a secular India where Hindus and Muslims should live in peace. Gandhi and Nehru wanted that. This is not acceptable to people who are into communal politics," Sen said.
HT sent a mail to the vice-chancellor, seeking his reaction. This story will be updated when he responds.
Suvendu Adhikari, leader of the opposition in the legislative assembly, targeted both Sen and Banerjee.
"Amartya Sen should now read out the oath of office to Mamata Banerjee and make her the prime minister. Banerjee earlier insulted Narendra Modi, Amit Shah and JP Nadda by making nasty personal remarks. She has no right to make any statement," Adhikari said, referring to the chief minister's allegation that the BJP insulted the economist.