Mamata Banerjee hits out at Centre for withdrawing funds
Jan 20, 2023 08:24 AM IST
She attacked the Bharatiya Janata Party (BJP)-ruled Centre for stopping funds under schemes including the Mahatma Gandhi National Rural Employment Guarantee Scheme
West Bengal chief minister Mamata Banerjee hit out at the Centre for withdrawing scholarships meant for students up to class 8 from backward and minority communities as she launched a new scholarship scheme Medhashree for them.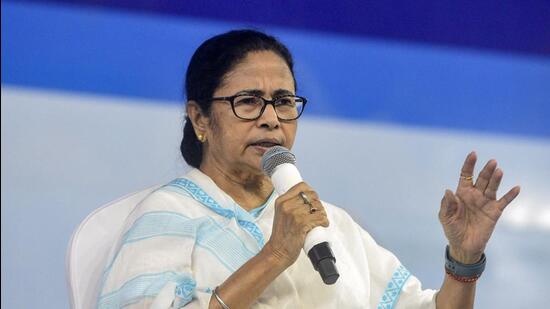 "Why should not the OBC [other backward classes] get the scholarship? But do not worry... The state will give the OBC scholarship of ₹800 monthly," she said on Thursday. The scheme will also cover students from minority communities.
Banerjee, who was speaking in north Bengal, also expressed concern over the rising human-elephant conflict in parts of the region.
At least 77 people were killed in elephant attacks in the state in 2021-22 compared to 47 in 2020-21.
"Cases of elephant attacks have shot up in this part [north Bengal]. One person was killed on Tuesday at Kalchini in the Alipurduar district. He has been given a job and compensation. The elephant population has shot up."
She attacked the Bharatiya Janata Party (BJP)-ruled Centre for stopping funds under schemes including the Mahatma Gandhi National Rural Employment Guarantee Scheme (MGNREGS). "Those who worked under the 100-day work scheme were not paid. We on our own have generated around 100 million workdays for around four million job card holders."
The Union government has sent multiple teams to Bengal to check the implementation of central projects and schemes.
Ahead of the panchayat polls, the BJP has been attacking the government for alleged corruption in such schemes.
BJP leader Suvendu Adhikary accused the ruling Trinamool Congress-led panchayats of looted money meant for MGNREGS. "This is the biggest scam after independence. I have filed a PIL in the Calcutta high court and have sought a CBI probe. If there is a CBI probe, a large section of TMC's panchayat levels leaders would be arrested."