Visva Bharati hits back at Mamata Banerjee, says she believes 'her lackeys'
Feb 02, 2023 09:45 AM IST
The unprecedented attack came after Banerjee dismissed Visva Bharati's claim on a part of Nobel laureate economist Amartya Sen's ancestral property
Visva Bharati, a central university in West Bengal's Shantiniketan, has accused chief minister Mamata Banerjee of instigating teachers and students facing disciplinary action while calling her partisan "who sees through her ears" and believes "whatever her lackeys tell her."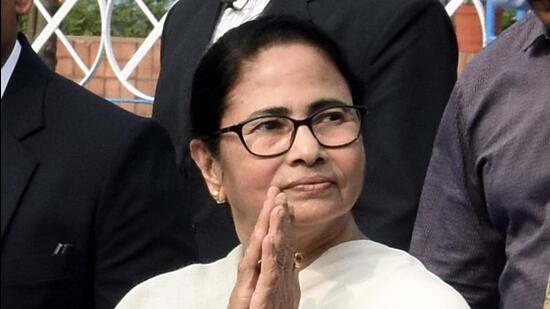 The unprecedented attack came after Banerjee dismissed Visva Bharati's claim on a part of Nobel laureate economist Amartya Sen's ancestral property. Banerjee met Sen, 89, at his residence on Monday and handed the revenue department record showing that the 1.38 decimal land the university has claimed belongs to him.
Banerjee said they look at Visva Bharati "through the eyes" of Rabindranath Tagore, who founded the university in 1921, and not through a saffron lens in a reference to her arch rival the Bharatiya Janata Party (BJP).
She referred to efforts to "saffronise" Visva-Bharati while will seeking the intervention of Prime Minister Narendra Modi, the university's chancellor.
Banerjee cited the controversies surrounding the university since 2018 when Bidyut Chakrabarty took over as the Visva Bharati vice-chancellor. Agitations have rocked the university over the suspension of teachers and students.
Banerjee met sacked Visva Bharati professor Sudipta Bhattacharya on Tuesday along with six suspended students. This came after the Calcutta high court observed that "stigmatic aspersions" led to Bhattacharya's summary termination in December.
The sacking prompted 261 Indian academics and American academic Noam Chomsky to seek President Droupadi Murmu's intervention.
In a statement issued in Bengali on Wednesday, Visva-Bharati's public relations officer Mahua Banerjee hit back at the chief minister. It questioned the standard of state-run universities and referred to the arrest of former education minister Partha Chatterjee and former University of North Bengal vice-chancellor Subires Bhattacharyya in an alleged teacher recruitment scam.
"How did your hand-picked minister and vice-chancellor land behind bars? Decisions you take on the advice of your lackeys are devastating you," said the statement, which referred to the "respected chief minister" but did not specially name Mamata Banerjee.
The statement referred to walls at the chief minister's residence on Kolkata's Harish Chatterjee Street for her security. This was in apparent response to Mamata Banerjee's objection to walls being built on the Visva Bharati campus.
The statement justified action against Bhattacharya saying it was taken on justified grounds and that the high court should decide on the matter since the professor has opted for legal recourse.
"Has not the chief minister crossed the limit by alleging that the professor has been punished? The university has informed him that it proposes action and the matter is before [the] court. It is however a different matter if the chief minister feels that she is above the court," the statement said.
It referred to Anubrata Mondal, a local functionary of Mamata Banerjee's Trinamool Congress (TMC) who is in judicial custody since last year in the cattle smuggling scam. "Nobody knows when he will be out of jail."
Santanu Sen, a TMC Rajya Sabha member, objected to the phraseology of the attack on the chief minister and called it outright political. "It shows where an institution of international fame has been dragged to."
Chakrabarty separately issued a nine-page note in English titled 'Plight of Visva-Bharati." He cited the rich history of the university. "Once a new vice-chancellor joins the office, those seeking to fulfil their vested interests move around him/her like honey bees. After a few months, they come up with their unjust demands. Now, if the vice-chancellor succumbs, there is no problem and if it is otherwise, the problem starts."