12 years on, trial in triple blasts case begins at MCOCA court
Feb 03, 2023 12:47 AM IST
Trial in the 2011 triple blasts case began before a special MCOCA (Maharashtra Control of Organised Crime Act) court on Thursday
Trial in the 2011 triple blasts case began before a special MCOCA (Maharashtra Control of Organised Crime Act) court on Thursday.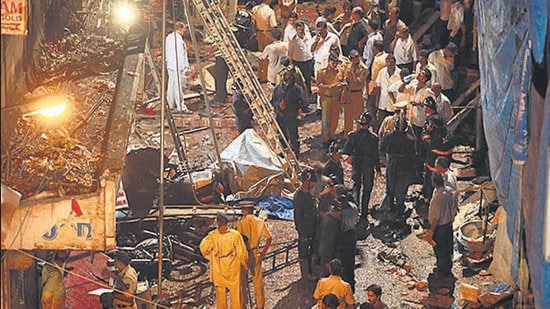 The prosecution examined a panch witness who was present at DB Marg police station when staff of Noor hospital deposited the splinters removed from the body of injured. The police had then sent the splinters for forensic examination.
As many as 27 people were killed and 127 were injured after three coordinated bomb explosions occurred at Zaveri Bazaar, Opera House, and Dadar between 6.52pm and 7.05pm on July 13, 2011. The Anti-Terrorism Squad (ATS) of Mumbai police had arrested 11 people claiming they belonged to a banned outfit Indian Mujahideen (IM).
Pending trial, one of the accused, Kawalnayan Pathrija, died. The other accused are identified as Haroon Rashid Abdul Hamid Naik, Naquee Ahmed, Nadeem Sheikh, Mohammed Kaffeel Ansari, Yasin Bhatkal, Asadullah Akhtar alias Tabrez, Sayyed Afaq Ismile Lanka, Saddam Husain Khan, Zia Ur Rehman alias Waqas, and Tehseen Akhtar Sheikh alias Monu.
The special MCOCA court had on March 29, 2019, passed an order to frame charges against the accused. However, the court could not frame charges for a long time as the accused were kept in different jails. On Thursday, the accused lodged in prisons outside the city were produced via videoconferencing. Suspected key conspirator Bhatkal was one of them.
ATS claimed that IM's India head, Bhatkal, along with Waqas and Tabrez had rented a third-floor flat in Byculla's Habib building where they allegedly assembled explosives.
The confession statement of Nadeem Sheikh revealed that Bhatkal had planted bombs at the bus stop in Dadar while Waqas and Tabrez had placed the two wheelers loaded with bombs at Zaveri bazaar and Opera House.
ATS also claimed that Bhatkal had fled from Karnataka after the Mumbai crime branch arrested 21 IM members in 2008. He subsequently took shelter in Darbhanga, sometime in 2008, and started hiring unemployed Muslim youths for IM, the police said, adding the selected youths were to be sent to Pakistan.