Cops return bag with valuables worth
₹

5.5 lakh to owner

Jan 31, 2023 12:23 AM IST
Mumbai: The Dadar police on Sunday recovered a handbag, which contained valuables of around ₹5
Mumbai: The Dadar police on Sunday recovered a handbag, which contained valuables of around ₹5.50 lakh, and returned it to its owner. The bag belonged to a 43-year-old teacher from Mira Bhayandar who forgot it in a taxi.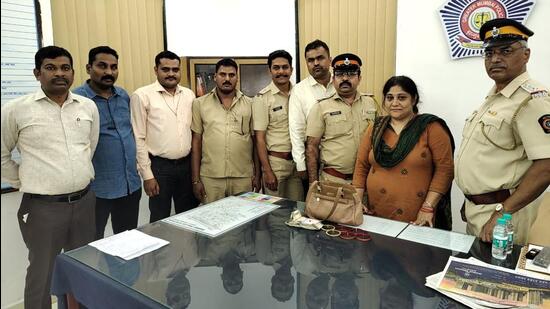 As per the police, the bag contained cash of around ₹1 lakh, two diamond bangles, 4 gold bangles and a gold ring – worth around ₹4.5 lakh. The police said they searched the bag for over 12 hours and through CCTV cameras and technical analysis along with some help from Regional Transport Office (RTO) managed to trace the driver to Nallasopara and returned the bag with the valuables to the woman.
According to the Dadar police, Nikhila Vitthal Karava, 43, was travelling to Siddhivinayak temple, Dadar, with her mother in a cab on Saturday.
"We reached the temple. However, my mother later realised that she had forgotten our handbag in the cab. We searched for the cab nearby but could not find it. Later the people and flower vendors asked us to visit the Siddhivinayak police chowki nearby," she added.
"The woman told us about the loss of the bag. Our officer Bhagwan Payghan immediately started working on the case. We registered a non-cognizable (NC) in the matter under section 403 for dishonest misappropriation of property," said Mahesh Mugutrao, senior police inspector of Dadar police station.
The police started screening footage of the CCTV cameras covering the area where the woman alighted from the taxi. "After scanning the footage, we identified the cab and then approached the nearby RTO office which gave us details about the cab and its driver. We then searched for e-challans against the vehicle which helped us get the mobile number of the driver," said Payghan.
The police then tried contacting the cabbie. However, he didn't answer the calls initially. "We kept on trying until finally, he picked up the call. We then told him that we have the CCTV footage where the woman was seen getting down from his cab without the bag and asked him to bring the bag back or else we could have to act against him," said Mugutrao.
The cabbie then brought back the handbag – with the cash and ornaments and handed it over to the police.
"I am thankful to the Dadar police that they worked hard and followed continuously. I had almost lost hope that I would get back my bag and more importantly the valuables in it," said the complainant.