CR's new Digha station likely to open in Feb
Jan 31, 2023 12:50 AM IST
This will decongest Thane station as well. The second phase covers the land acquisition and resettlement and rehabilitation of project-affected households that are being done by the Mumbai Metropolitan Regional Development Authority
Mumbai: The Central Railway (CR) is likely to get a new station at Digha early next month. The Mumbai Rail Vikas Corporation (MRVC) has completed work on this station with the cost of ₹200 crore, which has come up on the Thane-Panvel Trans Harbour line.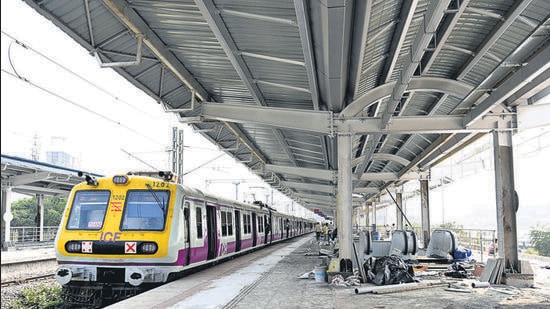 This station is part of the ₹476 crore Airoli-Kalwa Elevated Corridor that will ease travel from Kalyan to Navi Mumbai but is marred by issues owing to land acquisitions.
According to officials from MRVC – which is constructing this line under Mumbai Urban Transport Project (MUTP)-3 – the station is entirely ready and what remains now is some minor finishing works. Coincidentally, Prime Minister Narendra Modi is likely to visit Mumbai tentatively on February 10 and is expected to visit Chhatrapati Shivaji Maharaj Terminus (CSMT) station. In 2018, part of the Nerul-Belapur-Uran Fourth corridor was started on the Central Railway.
"We have written to the Central Railway about the completion of Digha station. Minor works are being finished now and it will be ready to be opened up," said a senior official from MRVC.
The pending works include drain connections, lighting and other peripheral works. Sources said that the Commissioner of Railway Safety had asked for a few changes, which are also being incorporated wherever possible.
The new station will come after Airoli and under the first phase of this 8-km-long Airoli-Kalwa elevated rail corridor.
The Airoli-Kalwa link project will benefit lakhs of commuters and provide seamless connectivity between Kalyan-Dombivli and Navi Mumbai. Digha-Airoli stretch has corporate offices and commercial office spaces. Thane station already has both suburban and passenger train traffic. It caters to 3.5-4 lakh commuters every day. The project will also be a blessing to those residing within the precincts of Digha station who travel all the way to Airoli or Thane to board a local train.
Once the Airoli-Kalwa elevated corridor is commissioned, commuters will be able to directly travel to the trans-harbour line without changing local trains at Thane. This will decongest Thane station as well. The second phase covers the land acquisition and resettlement and rehabilitation of project-affected households that are being done by the Mumbai Metropolitan Regional Development Authority (MMRDA).
Of the 2.55 hectares of land in Kalwa and Airoli, 1.95 hectares have been acquired and the acquisition of the balance of 0.60 hectares is in an advanced stage. The railway officials agreed that there had been objections from locals there, which were also political in nature, thus delaying this project. There are around 1,080 families who need to be rehabilitated. Of these, rental housing units have been approved for nearly 924 of them and 209 of them have been sent to MMRDA.