Fake certificate case: Court issues proclamation against Navneet Rana's father
Jan 31, 2023 12:57 AM IST
Rana's father Harbhajan failed to appear before the court despite the issuance of a non-bailable warrant and summons against him. Rana was booked on a complaint filed by one Jayant Vanjari who alleged that she used a forged caste certificate to contest the election from Amravati as the seat was reserved for a scheduled caste candidate
Mumbai: A metropolitan magistrate court in Sewree on Monday imposed a fine of ₹1,000 on Amravati independent MP Navneet Rana and her father Harbhajan Kundles for seeking adjournment during the court hearing of the fake caste certificate case.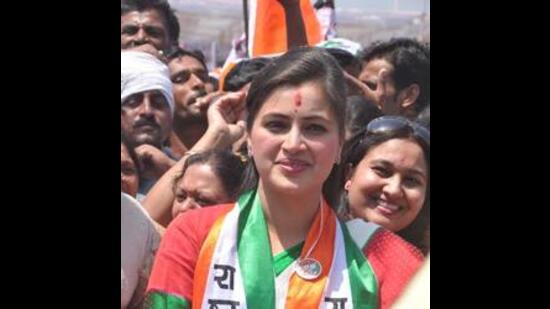 Rana's father Harbhajan failed to appear before the court despite the issuance of a non-bailable warrant and summons against him. Rana was booked on a complaint filed by one Jayant Vanjari who alleged that she used a forged caste certificate to contest the election from Amravati as the seat was reserved for a scheduled caste candidate. The Mulund police have filed a charge sheet against Rana and her father in the case.
Taking cognizance of the chargesheet filed by the Mulund police, the Sewree court issued a summons to the father-daughter duo.
The MP and her father had moved to the metropolitan magistrate court seeking discharge from the case, but their plea was rejected after which they moved to the sessions court in appeal. But even the sessions court rejected their appeal, with the observation that there was a prima facie case against the duo.
When the matter was called for hearing on Monday before the additional chief metropolitan magistrate P I Mokashi, Rana's lawyer sought an adjournment, saying that his senior was engaged in a matter at Hyderabad court.
The court, accordingly, adjourned the hearing but with a warning and imposed a fine of ₹1000 was imposed on them. At the same time, the court also issued a proclamation against the independent MP's father, as he remained absent despite the issuance of a non-bailable warrant.
However, MP Navneet Rana said, "I am yet to receive this order. I need to see the order before I can comment. Yes, they have imposed a fine."'
Shiv Sena (UBT) spokesperson Kishore Tiwari demanded that MP Navneet Rana should resign as a member of parliament. "It is a very serious matter. MP Navneet Rana should resign as MP. BJP, which supports Rana and teaches morality to others, also needs to take a stand in this matter," said Tiwari.
BJP is yet to react to the court order.