Fatal crash on Mumbai-Ahmedabad Highway claims 4
Feb 01, 2023 12:58 AM IST
The speeding car jumped over the divider and crashed into the bus, which was on its way towards Mumbai
Mumbai: A fatal car crash on Tuesday morning claimed four lives after a car collided with a luxury bus on the Mumbai-Ahmedabad Highway. The incident happened at Kasa bridge in Dahanu at 3.30 am.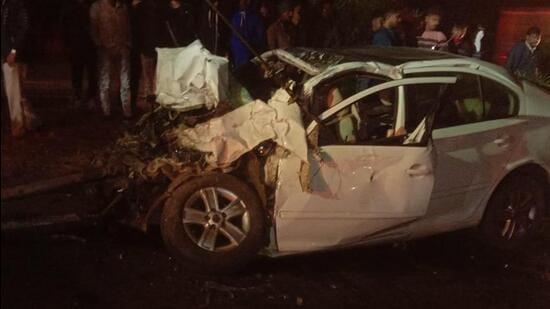 As per the police, the white Skoda car was travelling towards Gujarat with four passengers. The deceased – identified as Mohammad Hafeez (36), Ibrahim Dawood (60), Ashia Collector (57) and Ismail Desai (42) – were all residents of Bardoli in Surat.
Police officers said they received a call from the witnesses stating that the speeding car (GJ 05 CM 2222) jumped over the divider and crashed into the bus, which was on its way towards Mumbai and travelling on the southbound stretch of the highway.
Balasaheb Patil, superintendent of police, Palghar, said the accident happened because the driver lost control of the vehicle. "The impact of the collision was so high that the car's front portion was completely damaged and all the occupants were trapped. It took hours to get them out of the vehicle, but by then it was too late," he added.
All the occupants of the car, including the driver, died on the spot because of the impact of the collision, said Patil. Three men from the luxury bus, including the driver, also suffered injuries in the accident. All of them were rushed to the Kasa government hospital.
"We are in the process of recording the statements of the bus driver and other witnesses," said Patil.
The police informed the relatives of the deceased about the accident and were in the process of registering an FIR. "We are finding out how fast the car was travelling and how the driver – Hafeez – lost control of it," said a police officer from Kasa police station.
The officers said that since the accident occurred in the early hours, most of the passengers of the bus left the spot once they got other means to travel. The police are now tracing the other passengers of the bus which was headed towards Andheri from Gujarat.