Healthcare sector poised for transformation in post-pandemic world
Payal Gwalani and Somita Pal
Jan 31, 2023 01:00 AM IST
The public sector is now focused on preventive healthcare, disease surveillance and better diagnostic facilities. The private sector is working on strengthening its critical care infrastructure, upskilling their staffers and changing hospital designs to suit the needs of infectious disease patients.
Mumbai: The pandemic brought along with it a bunch of lessons for both public and private players in the industry. From changing the perception of what is important to understanding the lacunae in the system, and looking for appropriate solutions for them, healthcare is going through a largescale churning as the pandemic wanes.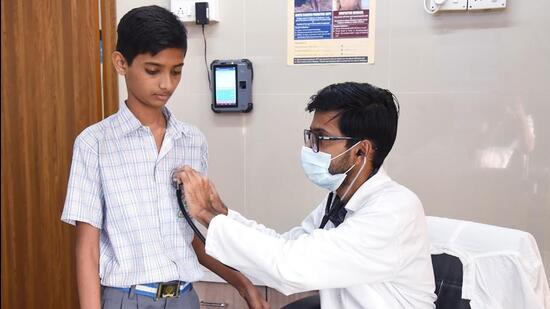 The public sector is now focused on preventive healthcare, disease surveillance and better diagnostic facilities. The private sector is working on strengthening its critical care infrastructure, upskilling their staffers and changing hospital designs to suit the needs of infectious disease patients. Both sectors are together working on providing better services in smaller towns and more use of technology.
"Public health was a backbencher until the pandemic hit us. It has now become a front bencher and getting attention from bureaucrats and policy makers," said Dr Pradip Awate, surveillance officer in the Maharashtra health department. He added that while the central as well as state governments are working are now ensuring that the initiatives remain more community-centric rather than hospital-centric like before.
Lessons Learnt
Director of the major civic hospitals in the city Dr Neelam Andrade, who was managing the jumbo covid facility at NESCO, Goregaon said, "We learnt from the pandemic that health infrastructure such as ICU, genome sequencing labs, training of healthcare workers, oxygen plants and more should be adequately available to manage large numbers of patients, if disaster strikes."
All of the learnings were converted to projects like the genome sequencing lab in Kasturba hospital and the installation of oxygen plants for generating liquid medical oxygen in the premises of most civic-run hospitals. Beside these, the ideas of establishing a task force for crisis management to prepare appropriate guidelines, rapid response teams at ward level to act immediately during a disease outbreak and war rooms were also generated through the covid experience of the civic body.
BMC's health budget increased from 12% to 15% of the overall city budget from FY 2020-21 to FY 2022-23, with an allocation of ₹6,934 crores in the last budget.
Preventive Healthcare
The Brihanmumbai Municipal Corporation's (BMC) additional municipal commissioner (health) Dr Sanjeev Kumar said that preventive healthcare has become the new focal area for the civic body. "During COVID, it was noted that co-morbidities like diabetes, hypertension, COPD and kidney diseases would raise the possibility of the infection being fatal for the patient," he said. That is why Non-Communicable Diseases (NCD) detection corners came up in all civic hospitals.
As a part of its focus on preventive health, the BMC has started almost 100 "Hindu Hruday Samrat Balasaheb Thackeray Aapla Dawakhana" in slum pockets. "If NCDs are identified at early stages at this level, the civic hospitals will only take up more severe cases," said executive health officer of BMC Dr Mangala Gomare. She added that the BMC is also participating in real time reporting on various government-run digital portals, which has also encouraged its internal reporting to be made digital.
Utilising Technology
Technology is also at the center of the changes that the pandemic brought in the private hospitals. "We now have more patients who seek out tele-consultation. Technology is helping in further improving our communication with patients and strengthening the diagnostic process for early detection of diseases," said COO of PD Hinduja Hospital Joy Chakraborty.
At Kokilaben Dhirubhai Ambani Hospital, 7-10% of follow ups are now being done through tele consultations, especially by patients who are in other cities.
Critical Care set-ups
In terms of the infrastructure, the hospitals are paying more attention to the critical care set-ups. "Generally, in a hospital, 20-30% beds are marked for critical care. In the pandemic, we saw many patients needing oxygen beds. The demand for semi-ICU set-up was more. We have redesigned our beds in a way that it can be upgraded to a high dependency unit when required," said Dr Santosh Shetty, CEO, Kokilaben Dhirubhai Ambani Hospital, Andheri.
In the post-pandemic period, Parel-based Global Hospital saw the establishment of ICUs for neurology and pulmonology. CEO Dr Vivek Talaulikar sees this a high-demand area in the future. "ICUs will remain our core strength as a strong critical care department can help one handle pandemic, epidemic, any disaster or mass casualty," he said.
Upskilling hospital staff
This necessity to upskill the all staffers working at hospitals led to the formation of a parallel industry of upskilling hospital staffers – both medical and non-medical. "Many hospitals have told us that their nursing staff, especially those who had never been on emergency duty before did not know how to operate ventilators and other advanced equipment being used for covid patients," said Anamika Sikri, COO of Pericia, a healthcare upskilling consultant. Better trained staffers can help reduce the mortality in critical care set-ups, she said. She has even been approached by the Directorate of Medical Education and Research (DMER), Maharashtra to train 5,094 doctors and nurses on ventilator management.
Design Changes
"Managing both non-infectious diseases and infectious diseases together during covid taught us that hospitals need to have separate air handling units, entry and exit points and even channels for patients of infectious diseases to avoid any cross infections," said Dr Shetty from Kokilaben Dhirubhai Ambani Hospital. This experience led to the hospital now having flexible designs with all its diagnostics areas and operation theatres having the provision to handle infectious patients separately.
At Parel's BJ Wadia Hospital, a conscious change decision was taken to make design changes after the swine flu epidemic when it underwent renovations a few years ago, informed CEO Dr Minnie Bondhanwala. "In 2016 itself, we had this foresight on the need to have segregation for infectious diseases. We never faced much of a challenge in the pandemic due to this. We could split our ICUs and all other areas into infectious and non-infectious sections and easily isolate patients when needed," she said.
Dr Ahmad Mecklai who was previously associated with Prince Aly Khan Hospital and now runs a healthcare consultancy AAA HealthCare says that many hospitals are now working towards a more ergonomic design that would help with better crowd management and a more logical flow of the locations of different departments.
Public-private partnerships
"We need more public private partnerships in the health sector in the coming years as the private sector is looking at inculcating some big changes in the way they operate. The stakeholders need to come up with a win-win model for the same," said Dr Vivek Desai of HOSMAC, a healthcare management consultancy. He recalls how during a surge of the omicron variant last year, Mumbai Municipal Commissioner Iqbal Singh Chahal directed all 142 private hospitals in the city to help with the huge influx of patients.
"Major players in the private sectors are extending their services into tier 2 and tier 3 cities, which is a good sign," said Dr Desai.