Old neighbourhoods get new names on metro stations
Jan 31, 2023 12:38 AM IST
These names, more than 100 years old, are but points on the map. For instance, Valnai, in Malad West, on Line 2A, is an area that original inhabitants named after a river. Valnai translates to the turning of a river - the water body has turned into one of the creeks in Malad
Mumbai: In the early '90s when mill lands were reclaimed to be transformed into shiny business districts and upscale residential hubs, names such as Upper Worli (today's Parel) and New Cuffe Parade (an under-developed part of Wadala then) were bandied around by builders to woo investors as also citizens who wanted a touch of mystique to their new addresses.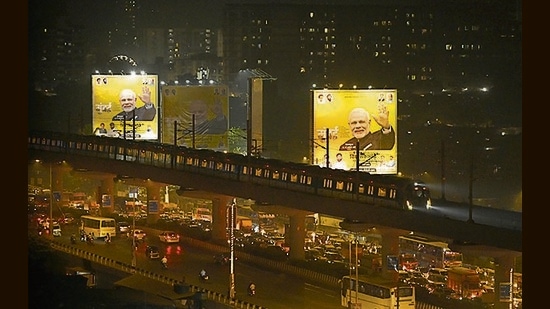 In a reverse reality, three decades later as the city finds itself turned inside out by infrastructure projects promising to ease our lives in the future, it's again names that have started some chatter. This time they are mainstay and unlike in the past, there is no effort to gloss over facts. It is in fact, an occasion for citizens to acquaint themselves with historic names of modern neighbourhoods, thanks to those already existing, and the newly opened metro lines 2A and 7.
Metro 2A connects Dahisar West to D N Nagar, Andheri, while Line 7 connects Dahisar East to Andheri East. Together, they form a horseshoe route of 35 kilometers.
Social media is abuzz with names of stations on these routes that commuters are straining to understand – Mandpeshwar, Kandarpada, Gundavali are but a few.
Mandpeshwar, in Borivali West, is an old fishing village, while Kandarpada used to be one of the 10 villages in Dahisar. Gundavali, one of the villages in Andheri, used to be a vast swathe of farmland.
"These names, more than 100 years old, are but points on the map. For instance, Valnai, in Malad West, on Line 2A, is an area that original inhabitants named after a river. Valnai translates to the turning of a river (the water body has turned into one of the creeks in Malad)," stated historian Deepak Rao. Rao explained that what is today's Orlem in Malad, was originally named Vorlem by the Portuguese.
Eksar on Line 2A and Pouisar on Line 7 -- between Kandivali and Goregaon – were agrarian lands, which can be located in faded maps of Mumbai.
Names echo history of the city, said Harish Pandey, a resident of Dahisar for 25 years. "Mandpeshwar has historical relevance as there are caves named after it which are centuries old. Line 2 was constructed on Link Road, which was developed 25 to 30 years ago. The area is popularly known as I C Colony, with the Mandpeshwar caves a mere two-three kilometres away."
What is education for some is confusion for others. Dhaval Shah, a member of citizens' body, Lokhandwala Oshiwara Citizens Association, would rather stay with the tried and tested. As he said, "Authorities should have ideally stuck with familiar names, such as JVLR instead of Jogeshwari East, WEH (Western Express Highway) Station in place of Gundavali. Names such as Lower Oshiwara and Pahadi Goregaon are very confusing and the authorities should at least put the known names of these station in brackets. It will be easier for commuters to understand."
The Mumbai Metropolitan Region Development Authority (MMRDA) has cherry picked the names from existing revenue records of the government. An MMRDA official said, "We did not want to name the stations after malls, popular housing complexes and office buildings, and give them unwanted publicity."
However, MMRDA aims to monetise it by co-branding, as it has done in the case of Mumbai Metro-1. It earns ₹2-3 crore monthly from co-branding rights from its 12 stations -- such as Andheri-LIC, DN Nagar-Vivo -- on the Versova-Andheri-Ghatkopar metro corridor. In fact, even Mumbai Metro Rail Corporation (MMRC), which is executing the Metro 3 underground corridor (Colaba-Bandra-Seepz) has awarded naming rights for five stations for five years, which will begin from the commissioning of the line. The names are yet to be formalised. The total value expected to be garnered is a cumulative ₹216 crore over five years, with 5 per cent annual escalation, generating non-fare revenue to the tune of ₹40 crore annually.