Ward for dogs with special needs where strays were once killed
Feb 03, 2023 12:46 AM IST
Run by an NGO, In Defense of Animals (IDA), the neutering centre in Bainganwadi is currently home to 25 blind dogs, 15 paralysed dogs, 10 blind cats and seven paralysed cats
Mumbai: Not too far from the city's dumping ground in Deonar there used to be dog pound where the stray canines were killed. The pound eventually turned into a centre for neutering dogs. Down the line, it has become the permanent home of several dogs and cats with special needs – some of them blind, some paralysed.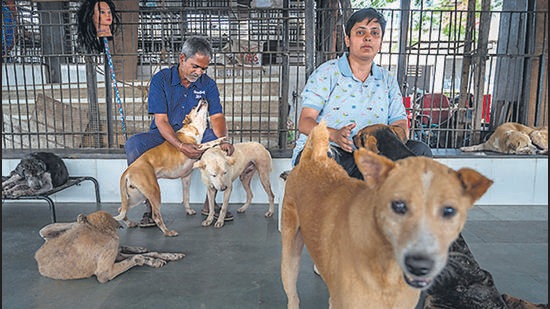 Run by an NGO, In Defense of Animals (IDA), the neutering centre in Bainganwadi is currently home to 25 blind dogs, 15 paralysed dogs, 10 blind cats and seven paralysed cats. Most of them were strays, for whom the streets had become too dangerous, while a few of them were abandoned by their owners on account of their illness. They are brought to the centre by animal rights activists or even civic officials.
In the year 2000, the centre at Deonar started neutering stray dogs. They also started seeing a steady stream of injured and unwell dogs.
"By 2005, we had decided to help out the ones with special needs, especially those who were losing their sight with age. The civic officials also supported this and told us to keep them segregated and provide them open space," said trustee Vivienne Choudhury. They need to be segregated because the other dogs may bite them if they bump into them, she added.
Subsequently, an enclosed ward with an attached garden area was built in the middle of the premises for special needs dogs. The dogs here are not only well fed, their medical needs — including cataract surgeries, medicines and others — are taken care of. It has the capacity of housing up to 40 dogs at a time. There is another space for cats with special needs.
"One needs to realise that blind dogs can survive when they have a supportive caregiver. If it is not unsafe for them, it is better to keep them in familiar surroundings. The dogs brought here do not have any one to look after them and could get into accidents if left on the streets," said Priya Grover, vice president of IDA.
Shalini Singh, manager of the centre, said that the blind or injured dogs are often left abandoned on the streets. "The worst is when people, who know we provide such dogs shelter, just throw them over the compound wall. That said, these dogs have suffered a lot and so, they are also the most pampered ones of our residents," she said. Building trust with them does take some more time because of their bad experiences, she added.
The pampering she refers to is apparent in the way staff members here interact with these special residents. Vilas Bhingadive, who has been looking after the dogs in this ward for the last eight years, puts in a lot of efforts to ensure their surroundings are as clean as possible. As soon as he gets into their enclosure, the partially blind ones leap up at him trying to hoard all his attention.
There is also a network of people who take care of the dogs in every way possible — starting with naming them, taking care of their medical needs and even sponsoring special treats in the form of paneer that the dogs love.
"While we love all residents of this special ward, the sad part of this initiative is that the dogs are so old when they come here that they don't live beyond a couple of years," said Vivienne.