Without Lachit Barphukan's valour, NE would not have been part of India: Amit Shah
Published on Nov 25, 2022 03:47 PM IST
Lachit, a general in the Ahom kingdom that ruled Assam for six centuries, played a decisive role in the Battle of Saraighat in 1671 near Guwahati. Despite being severely ill, he led the Ahom troops to defeat the Mughal army of Aurangzeb and thwarted their attempt to conquer Assam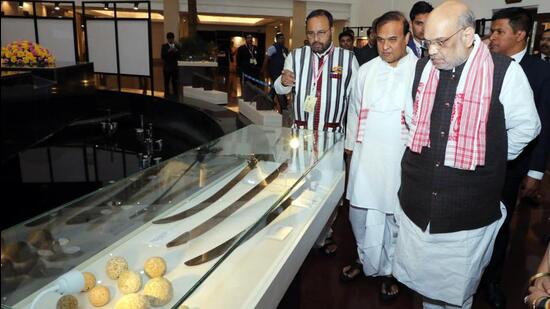 Union home minister Amit Shah on Thursday hailed India's own warriors, and said that had it not been for someone like Lachit Barphukan, the legendary Ahom general from Assam, northeast Indian would not have been a part of this country.
Speaking at an event in New Delhi to mark the 400th birth anniversary celebrations of Barphukan, Shah asked historians to write extensively about 30 great empires of India and 300 warriors who showed exemplary valour to bring out the truth (of history).
"If he (Lachit) had not been there, it's likely the entire northeast would not have been a part of India. Had he not shown valour and did what he did, not just northeast, the entire South East Asia could have fallen to religious attackers," he said.
Lachit, a general in the Ahom kingdom that ruled Assam for six centuries, played a decisive role in the Battle of Saraighat in 1671 near Guwahati. Despite being severely ill, he led the Ahom troops to defeat the Mughal army of Aurangzeb and thwarted their attempt to conquer Assam.
"There was vast difference between the Mughal army which outnumbered the Ahom forces and had better boats and canons, but with his valour and nationalism Lachit was able to win the Battle of Saraighat and protect the Ahom kingdom," said Shah.
Also Read:Himanta Sarma's 'humble request' to historians: 'India isn't just about Babar, Jahangir…'
The BJP-led government in Assam is organising a three-day celebration in the national capital to mark his anniversary. Celebrations across Assam have been taking place since November 17 and Thursday was observed as Lachit Diwas annually in the state.
Shah said claims of historians not having written India's history correctly can be countered if historians and students of history write extensively about the country great empires of the country which ruled for over 150 years and warriors who fought to protect the nation's independence.
The three-day event culminates today with Prime Minister Narendra Modi addressing the valedictory session and releasing an English book on Lachit Barphukan.
Earlier, Assam chief minister Himanta Biswa Sarma announced that the state government will build a memorial dedicated to the general at Hollongapar in Jorhat district of Assam, which will include a 125-ft bronze statue at a cost of nearly ₹170 crore.
The state government also plans to build a Lachit Bhawan at the National Police Academy in Hyderabad, Sarma said.