Budget 2023: Healthcare sector appreciates focus on elimination of sickle cell anaemia, setting up nursing colleges & boosting R&D
Feb 02, 2023 04:13 PM IST
Healthcare experts welcomed the Union Budget 2023 which announced setting up of 157 new nursing colleges and focusing on boosting medical education and research
Healthcare experts welcomed the Union Budget 2023 which announced setting up of 157 new nursing colleges and focusing on boosting medical education and research.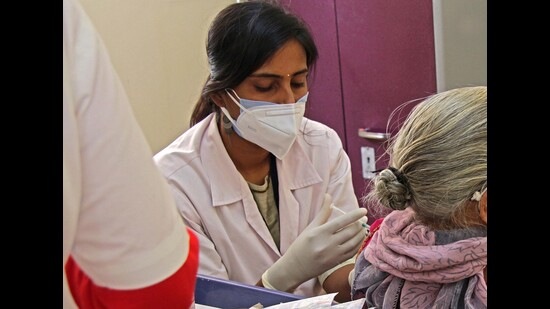 The Union Budget 2023-2024 allotted 2.1 % of GDP to the health sector in FY23 against 1.4 % in FY19.
Sharing his views, Dr Sunil Rao, CEO, Dr DY Patil Hospital & Research Centre, said, "There is a big push for an ambitious target to eliminate sickle cell anaemia by 2047. Around seven crore people between the ages of 0-40 will be examined in the affected tribal areas. Programmes like these can be a path-breaking model for future programmes to address other ailments like curable blindness. The programme also laid the importance of the 'millet grain' and gave a boost to the potential of the grain which has been highly recommended by medical professionals, to reduce the endangering epidemic of diabetes in the nation."
Behram Khodaiji, CEO, Ruby Hall Clinic said, "The newly announced budget focuses on a special programme to eradicate sickle cell anaemia in the country is a right step. This initiative will not only help tackle anaemic disorders but also ensure the rural population leads a healthy life."
"With a vision of India progressing in medical science and adopting advanced technology, we will be able to upskill manpower. While the government has focused well on R&D and building the infrastructure which will encourage the private sector to champion healthcare delivery, what will further help is, how to create a robust and highly incentivised policy for domestic manufacturing of medical technology," he added.
Abrarali Dalal, additional director and CEO, Sahyadri Hospitals said that skill gap and shortage of manpower is a continuous challenge that the healthcare sector continues to face. "The announcement of 157 new nursing colleges, thrust on skilling will be beneficial in this direction. Three Centers of Excellence in artificial Intelligence and availability of ICMR labs for research by public and private sector for collaborative research , new programs for research in pharmaceuticals will further strengthen the healthcare ecosystem," he added.
Dr Tarang Gianchandani, CEO, Sir HN Reliance Foundation Hospital too stated that the emphasis of the budget on digitization, with increased focus towards modern tech would ensure speedier adoption of digital tools and enhanced research in AI. "Investment towards nursing colleges is a progressive move as that is the need of the hour. In fact, PPP would be encouraged to ensure the government can get adequate support from private players and we as a sector are able to come up with setting up these nursing colleges sooner," she added.