Fire brigade rushed to Kalyani Nagar to douse garbage fire after residents panic
Jan 31, 2023 10:56 PM IST
Despite multiple complaints from the residents of Kalyani Nagar, Hinjewadi and Wakad about the severe air pollution caused by burning of garbage, PMC has taken no action
PUNE: Matters came to a head on Monday when the fire brigade had to rush to Kalyani Nagar as trash was being burned, causing panic among the residents. Despite multiple complaints from the residents of Kalyani Nagar, Hinjewadi and Wakad about the severe air pollution caused by burning of garbage, the Pune Municipal Corporation (PMC) has failed to take any action till date.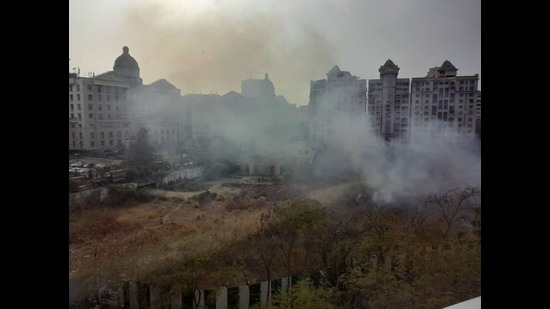 A spokesperson of the New Kalyani Nagar Residents' Group said, "This is a regular issue at Kalyani Nagar. We are yet to identify who burns garbage but we can see smoke arising from open land every alternate day. On Monday, we observed that the smoke was dense so we had to call the fire brigade. People from our society panicked."
According to the residents, the garbage is burnt on an empty plot of land between Sophronia and Kruti Society. They suspect that the vendors running stalls on the footpath are burning the trash on open land but they don't have any evidence.
Anuja Bali said, "The PMC should issue a public apology accepting complete failure in waste management. As a municipal corporation, the PMC has no system in place for controlling air pollution. Burning, spitting and littering are flourishing under the PMC's nose while citizens are choking."
Raja Subramani said, "The PMC will now ask for the pin code and elaborate on our concerns. Some tickets will be issued and that's that. When you remind them, they will apologise and issue a new ticket and after that, things will be forgotten again."
Colonel Charanjeet Bhogal, chief operating officer, Hinjewadi Industries Association, said, "People residing in Hinjewadi have pointed out the problem of garbage burning many times. As far as the Rajiv Gandhi Infotech Park is concerned, we do not have a solid waste management scheme there. Industries take care because they are bound by rules and regulations and pollution boards, and they have authorised garbage collectors who collect the garbage."
"There are many small hotels, roadside eateries and stalls which dump garbage here and there and the garbage is burned by the same people. The residents are worried about the pollution being created by this and the fact that it is unhygienic. Many people are burning garbage behind industries and resident complexes where they cannot be located," Bhogal said.
Civic activist Qaneez Sukhrani said, "If we can see that garbage is being burned at many places, why can't the PMC see it? Garbage burning is an old issue in Kalyani Nagar and Wadgaonsheri."
Whereas Mukund Gham, sanitary inspector, PMC, said, "We are monitoring the issue; once we find the culprits, we will take action against them. On Monday, the fire had been brought under control when PMC officials reached the spot."
Asha Raut, deputy commissioner (solid waste management department), said, "Our ward officers are taking action against people burning garbage. People should avoid the practice of burning garbage as it can cause health issues."
Box
Hazards of garbage burning
The most dangerous chemicals are produced and released during the burning of plastics such as dioxins which are by-products of the incineration of products containing chlorine. Dioxins tend to adhere to the waxy surface of leaves and enter the food chain in this manner. Even if certain types of plastic (polyethylene or polypropylene) do not contain chlorine, other materials attached to them or burned along with them may be a source of chlorine.
Source: PMC