Indian rose blooms again due to Russia-Ukraine war
Feb 02, 2023 11:10 PM IST
The war in Europe and the energy crisis has discouraged growers in Europe from growing flowers during the winters
PUNE: The Russia-Ukraine war has gained an unlikely beneficiary in the Indian rose (flower) export market. According to officials of the Talegaon-based Indian Society of Floriculture Professionals (ISFP), Indian rose farmers are expecting rose exports to double this Valentine season as the ongoing war has discouraged Europe from growing flowers. According to Praveen Sharma, president of ISFP, India's total rose exports have touched ₹18.34 crores in November 2022 as against ₹9.68 crores in 2021.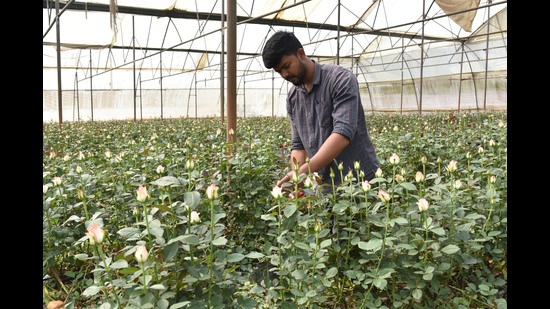 "The war in Europe and the energy crisis has discouraged growers in Europe from growing flowers during the winters. This is mainly because of high energy consumption which includes heating, artificial lighting, CO2 enrichment and above all, high labour costs," Sharma said.
"Many leading Dutch growers have decided to pause production during the winter season owing to the said reasons. Considering all this, our flowers are in demand as affirmed by sales data till November," he said.
According to ISFP, India's flower exports are back on track again after the Covid-19 setback. The last two years were very bad for exports, with many flower growers pausing production. However, domestic markets offered relief during the pandemic. And now due to the resurgent economy and growing domestic market, flower growers have reason to cheer once again. This year, there are great opportunities in the international market as well. ISFP officials further said that they are inching close to India's 2019 export levels although the biggest challenge for exporters is the rising freight costs, which have gone up nearly 30% as compared to last year. The negotiations with foreign buyers have been tough, mainly due to the rise in freight costs.
Indian roses have a distinct image in the international market, and are primarily exported to the UK (35% of total exports), Australia (19%) and Japan (18%) followed by special orders for the Valentine season from Malaysia, Singapore and the Gulf countries. Maval taluka in Pune district is a major floriculture hub for the cultivation of export-quality flowers. The ISFP expects flower exports to cross ₹50 crores (back to pre-Covid levels) this Valentine season. Besides Maharashtra, the major rose-growing states in the country include Tamil Nadu, Karnataka and West Bengal. Exports are mainly from the Mumbai and Bangalore airports, with Mumbai accounting for more than 60% of shipments for the Valentine season.