MSRTC to start electric bus service to Mumbai
Feb 02, 2023 11:05 PM IST
Several ST buses in the Pune division have exceeded the 15-year age limit and are being scrapped, while electric buses are now being introduced to passengers
Pune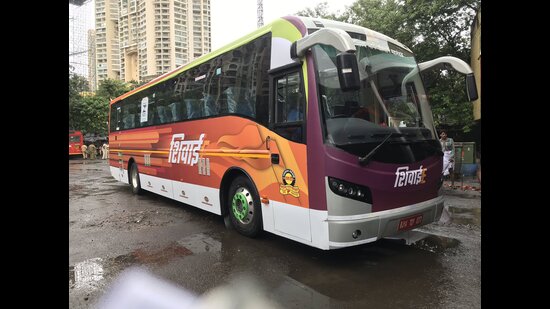 The Maharashtra State Road Transport Corporation (MSRTC) Pune division has decided to expand their 'Shivai' electric bus routes departing from Pune. These buses currently only serve Ahmednagar, but will be expanded to Thane, Dadar, Aurangabad, and Kolhapur within the next week. From Pune, more than 50 electric buses will be added to the fleet and distributed throughout the state.
Several ST buses in the Pune division have exceeded the 15-year age limit and are being scrapped, while electric buses are now being introduced to passengers.
According to MSRTC, the Shivai buses are currently only running on the Pune-Ahmednagar route and are receiving a positive response. However, based on passenger demand and a decision made by the headquarters, it has been decided to start electric bus service on other routes as well, including Pune to Thane, Pune to Borivali, Pune to Dadar, Pune to Nashik, Pune to Aurangabad, and Pune to Kolhapur.
"All of our plans are in place to launch the electric buses on additional routes; once the buses arrive at the Pune division and join our fleet, passengers will benefit from the service. Overall, there is a positive response to electric bus service because these buses run smoothly and provide better modern amenities to passengers," MSRTC Pune divisional controller Ramakant Gaikwad stated.