Travellator to be installed at airport FOB in March
Feb 02, 2023 11:04 PM IST
The regular flyers at Pune airport have a habit of getting cabs to the airport premises. Now they have to walk a little so it should not be an issue and if we compare with airports like Mumbai and Delhi
PUNE: To make passage easy for flyers at Pune international airport who not only have to walk from the foot-overbridge (FOB) to the multilevel car parking (MLCP) building but also drag their luggage along with them, airport authorities will be installing a travellator at the FOB by March.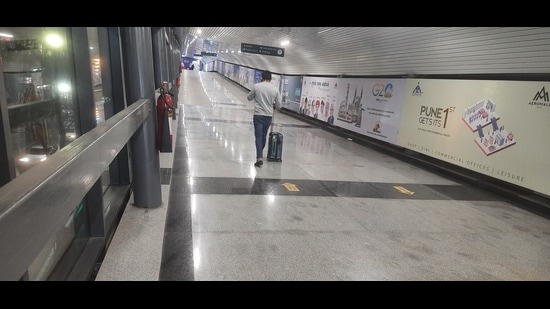 Whereas the prepaid Ola and Uber stands have already been shifted from the airport premises to the MLCP building since January 25. Airport authorities have kept golf carts on the way but as there are only three golf carts available, flyers are facing a lot of inconvenience.
A senior official from Pune international airport requesting anonymity said, "The travellator is expected to be installed at the FOB by March. There were some issues related to its procurement, otherwise the plan was to install it before shifting the prepaid taxi stands."
"The regular flyers at Pune airport have a habit of getting cabs to the airport premises. Now they have to walk a little so it should not be an issue and if we compare with airports like Mumbai and Delhi, our airport flyers will have to walk very less," the official said.
Speaking to Hindustan Times on Wednesday however, the flyers' response was a mixed bag. Vinaya Sawant, a regular flyer, said "Pune airport is getting worse by the day. If you now book Ola/Uber, you have to walk with your luggage/kids/old parents (we had all combinations) up to Aero Mall and two floors. Why this nuisance?"
While Aditya Gund, another frequent flyer, said, "You collect your bag, come to the arrival gate and from there, you have to walk around 100 metres to get to the escalator. From the escalator, you go up to Aero Mall and probably have to walk 400 metres. Of the 400 metres, 200 metres is a bit inclined after which walking is easy. There is a little bit of walking involved and it's just the initial hesitation people are having. Once they get used to it, it won't be a problem."
Supriya Sharma said, "The Aero Mall chaos is laughable to say the least. Extraordinary thought and vision but lacking in implementation. A regular flyer has to find his way through the maze to eventually get a cab. The elderly are the worst affected."