Vande Bharat train from Mumbai to Solapur via Pune likely to start from Feb 10
Jan 31, 2023 11:40 PM IST
The new express train will depart from Chhatrapati Shivaji Maharaj Terminus (CSMT) station in Mumbai and travel to Solapur via Pune and Shirdi
If all goes as per plan, the Mumbai to Solapur via Pune 'Vande Bharat' Express train will be flagged-off from Mumbai by Prime Minister Narendra Modi on February 10. The new express train will depart from Chhatrapati Shivaji Maharaj Terminus (CSMT) station in Mumbai and travel to Solapur via Pune and Shirdi. While it will take hardly 1 hour and 50 minutes to reach Pune from Mumbai, it will be the first Vande Bharat train running between the two cities.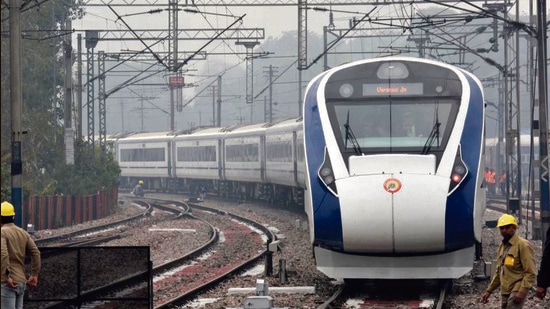 As per the information shared by sources in the Solapur railway division, an official announcement about the launch of this new train will soon be made by the Central Railway (CR) as the Prime Minister is arriving in Mumbai on February 10 for the inauguration ceremony of the Dawoodi Bohra community's Arabic Academy. It is during this visit that the Prime Minister will flag-off the new train from CSMT station.
"All preparations have been made to launch this Vande Bharat train, and it will be inaugurated on February 10 by the Prime Minister. This will be the fastest train running on this route and will be beneficial to thousands of passengers travelling from Mumbai to Pune, Shirdi and Solapur," a senior railway official from the Solapur division said on condition of anonymity.
Currently, there is only one Vande Bharat train running from Mumbai to Gandhinagar. This will be the second Vande Bharat train that will run six days of the week, with 10 stops between Mumbai and Solapur. As per the railway schedule, the train will not depart from Mumbai and Solapur every Wednesday and Thursday, respectively. Whereas it will depart from CSMT at 4.10 pm and reach Solapur by 10.40 pm, and will be the fastest train running on this route. As regards the return journey the next day, the train will depart from Solapur at 6.05 am and reach Mumbai at 12.10 pm.