Rajasthan women catch and guard 8-feet-long python until it finds place in natural park
Sep 05, 2017 11:35 AM IST
A group of women had gone to a cornfield when they saw the snake. Overcoming their fear, the women formed a circle around the reptile to stop it from moving away and thwart any attempts to harm it.
Tulsi Devi was scared stiff when she saw a snake for the first time in her life.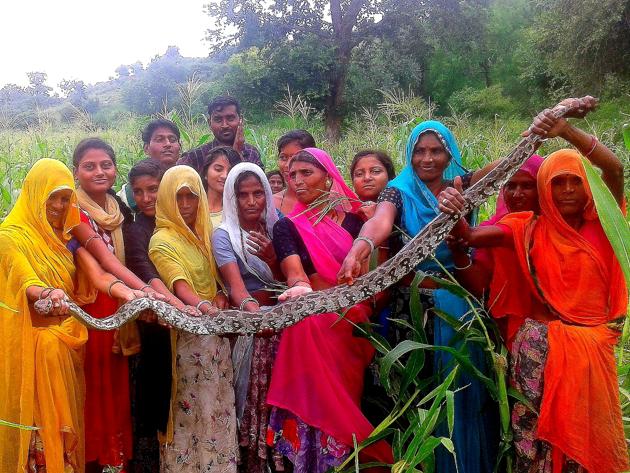 And it was not just any snake but an eight-feet-long python slithering around the newly-sown corn crops in her family field in Samecha village of Rajasthan's Udaipur.
"We had gone to cut grass at our field where corn has been sown when we saw the snake. We were scared and started screaming as it was really big," said Devi.
She said after hearing their calls for help, women from adjacent houses too reached the field. All the men in their houses were out for work at the time, she said.
The group of seven to eight women somehow overcame their fear and formed a circle around the python to stop it from moving away as well as thwart any attempts to harm the reptile.
"We were scared but stayed in the field to make sure that the snake didn't crawl to other fields as it could have been bitten someone," said Devi.
"We made sure that nobody pelted stones ... One of us informed other family members through phone," Rukmani, another villager, added.
Laluram Sawaji, one of their relatives, reached the field after getting their call.
"I saw the women guarding the snake and upon enquiring came to know that they had been standing for the last two hours. Following that, I informed a local NGO that rescues animals," said Sawaji.
Chaman Singh, the founder of Wild Animal Rescue Center in Udaipur, arrived at the scene with an assistant and over thirty years of experience in rescuing wild animals.
"I rescue around 12-13 snakes every day but what these women did was very brave. After I told them that Indian Rock Python's are not venomous, the women caught the snake all by themselves," said Singh.
The Indian rock python, also known as Indian python and black-tailed python, can grow up to nearly 12 feet and is found in southern Nepal, Pakistan, Sri Lanka, Bhutan, Bangladesh and probably in northern Myanmar. A near-threatened species, it can live up to 20-30 years.
Two hours later Devi was still standing at the same spot and this time with a huge smile as she posed for photographs along with the other women, casually holding the snake with their bare hands before it was sent to the nearby Bagdara Nature Park.
"My fear for snakes has gone away after holding one with my hands. We are happy that it could find a place at its natural habitat unharmed," she said.
"Exciting news! Hindustan Times is now on WhatsApp Channels
Subscribe today by clicking the link and stay updated with the latest news!"
Click here!