A mystic moment of historic holy flow
Mar 16, 2018 10:01 PM IST
Thanks to the Kanchi Srimatam's efforts, we have properly-trained Vedic priests and scholars today.
I went last week to pay my respects at Sri Jayendra Sarasvati's brindavanam or sanyasi's grave at the Srimatam in Kanchipuram. Devotees thronged the Srimatam, including mridangam maestro Padmavibhushan U. Sivaraman who sat on the bare floor softly playing in personal offering. The atmosphere was orderly and intense, charged with deep emotion and the resonance of mantras and slokas chanted by devotees.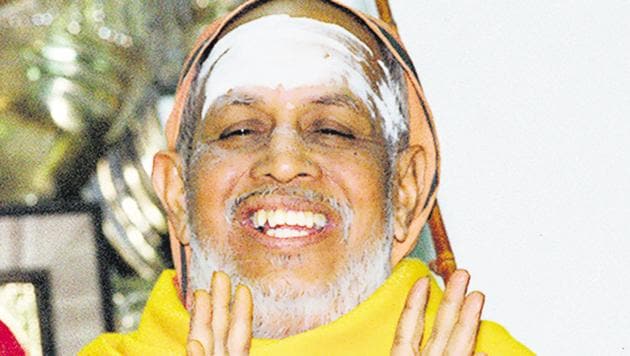 I thought of this Shankarcharya's pure smile, love of music and life of ascetic sacrifice. He was a true hero who sincerely attempted to shake the millennia from within society, to achieve a paradigm shift from ritualism to universal public service through massive outreach in health and education with access and respect for all. His influence on modern Indian society was deep and far-reaching, profoundly affecting ordinary lives. As one small, personal instance, my unexpected calling as a writer on religion and culture began with him. My first ever piece on religion was an interview he granted me at the Kamakshi temple in Delhi, with reasonable, progressive answers to 'What Hindus Hate About Their Faith'.
If we have properly-trained Vedic priests and scholars today, it's thanks to the Kanchi Srimatam's sustained rescue in the 20th century of this once almost-dead, wretchedly impoverished tradition; a track-and-restore mission initiated by this Shankaracharya's predecessor, Paramacharya Sri Chandrasekharendra Sarasvati. The other two big Hindu sects in the south, the Sri Vaishnavas and Madhvas, acknowledge this gladly. The Kanchi Shankaracharyas, following Adi Shankara's Advaita philosophy, hold that 'God is One'. They live austerely, get along well with non-Hindus, worship Shiva-Shakti and sign their letters 'Narayana Smriti'.
After paying respects at the brindavanam, we waited for the Srimatam's daily historic puja to Shiva as Chandramaulisvara, the Moon-bearer, to conclude. I thought of my visit to Kalavai after the Shankaracharyas were unconscionably detained in Vellore in 2004. After the pro-accused media reporting of the Nanavati case in 1959, this was India's first big anti-accused trial by media, stereotype-fed, speculative and gloating; whereas even some of the ulema spoke up for the Shankarcharyas while far-flung Nepalese wrestlers and prisoners in Coimbatore jail fasted for their release.
Post-bail, the two sanyasis spent their customary chaturmasya or four-month July-October retreat meditating at Tirupati and went on to Kalavai, a village about 120 km from Chennai. A 7th century Pallava-dynasty hamlet later called 'Chaturvedi Mangalam' (scholars' settlement) by Chola kings, Kalavai lost this status during foreign rule but retained spiritual lustre. Deep amidst its paddy fields and coconut groves is a one-and-a-half acre Shankara Matam, the final resting place of two previous Shankaracharyas and where the Paramacharya took sanyas in 1907
"I feel my guru's grace around me here," Sri Jayendra Sarasvati told me, after discoursing on how Adi Shankara's message remained relevant to modern India. "The poem Bhaja Govindam has existential verses warning believers to seek God, since the world flocks around only so long as one has wealth or power," he said...
The curtain was drawn aside just then on his successor, the 70th Shankaracharya, Sri Vijayendra Sarasvati, seated in calm, concentrated worship, a hair-raisingly mystical sight. We left greatly moved and heartened.
"Exciting news! Hindustan Times is now on WhatsApp Channels
Subscribe today by clicking the link and stay updated with the latest news!"
Click here!