From an epic hero, lessons in humility: SheBaba by Renuka Narayanan
Mar 31, 2018 06:44 PM IST
The verses glorifying Hanuman are more about 'personality development', meant to inspire the reciter to become a positive person and an asset to society
March 31 was Hanuman Jayanti across a swathe of North India. It coincided with the lovely full moon of the month of Chaitra, which I have long thought of as one of the prettiest purnimas of the year — even though the Magh, Kartik and Sharad purnimas are the more popular picks. Since the Deccan follows its own cycles of rain and shine, Hanuman Jayanti in Tamil Nadu is on the new moon of Margazhi or Mrigashirsha in December-January.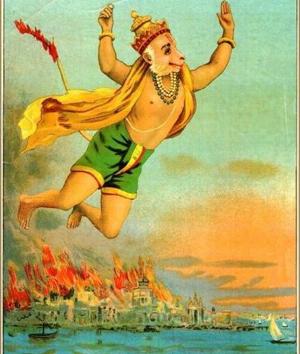 Both north and south, though, seem in love with the 'action hero' personality of Hanuman, the wise and gentle giant upheld as an ideal of humility and devotion despite being a superstar in his own right.
This is expressed in the Sanskrit verse that goes 'Yatra yatra Raghunatha kirtanam tatra tatra krta-mastakanjalim/vashpavari paripurna lochanam Maruti namata rakshasa-antakam'. Which means, 'Wherever the glory of Rama is sung, there, with his hands clasped over his bowed head and eyes overflowing with tears, is Hanuman; I salute Hanuman who vanquishes demons'.
Hanuman is considered a nityasuri or one who is free of karma for eternity. He is also believed to be still on earth, in spirit. This belief has gone so deep that wherever the Ramayana or a portion of it is recited or discussed, the organisers quietly place a wooden board on the stage, a seat of honour reserved for Hanuman, who is thought to be in attendance, though no one can tell in which guise. He won't actually sit there unless he's come invisibly, they say, but just in case he does, we shan't be found wanting in respect or affection.
The notion of Hanuman's protective presence is so cherished that you'll find people muttering 'Jai Bajrang Bali' as their flight takes off or before they hit a rapid in the river or when they bungee-jump. And many across the country seem to know the Hanuman Chalisa and value its significance as a kavach or protective shield for believers.
Another favourite is the verse, 'Buddhir balam yasho dhairyam nirbhayatvam arogata/ajatyam vaak patutvam cha Hanumat smaranat bhavet', meaning, 'By remembering Hanuman, I gain intelligence, strength, a good reputation, courage, fearlessness, good health, and I avoid dullness and become eloquent'.
There's nothing in there about winning lottery tickets or buying a new car. Instead, it's all about 'personality development', about wanting to be strong, confident and bright, to achieve tejas or a lustrous personality. It's clearly meant to inspire the reciter to become a positive person and an asset to society.
Sadly, there are those today who act as a menace to society and perform ungodly deeds in Hanuman's name. Perhaps they could course correct by circling back to Rama. Because to appreciate the beauty of Hanuman, whose original name was Sundara (the beautiful one), one must first understand the one he reveres, Rama, whom he loved the moment he saw him. And what does Rama represent if not good over evil; preservation over destruction?
shebaba09@gmail.com
(The views expressed are personal)
"Exciting news! Hindustan Times is now on WhatsApp Channels
Subscribe today by clicking the link and stay updated with the latest news!"
Click here!