One long party that's good news and bad: Shebaba by Renuka Narayanan
Jul 30, 2017 07:36 AM IST
The kanwariyas do disrupt Delhi needlessly and it's natural that tired urban commuters going about their daily grind resent the annual Shravan invasion.
As a Hindu I've never kept my faith in the closet, sometimes to my social cost, which I can live with. But I can't defend the indefensible.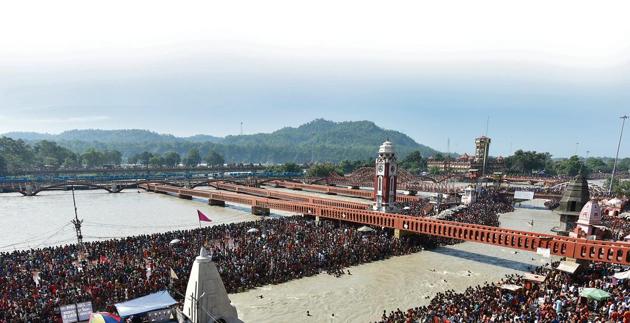 The kanwariyas do disrupt Delhi needlessly and it's natural that tired urban commuters going about their daily grind resent the annual Shravan invasion. Several years ago, when I met some kanwariyas at a huge camp pitched at Buddha Jayanti Park, I found the boys and men I spoke to very normal and pleasant (women are the exception, not the rule, on this yatra). But when in mobs, many kanwariyas now turn rough and rude. They are in deplorable contrast to another huge 'Hindu mob', one that I have been part of — the pilgrim parties that go to Khatushyamji in Sikar, Rajasthan.
Thousands of Hindus flock there, as I did, and join a queue that takes about two hours to reach the darshan point. But it was such a well-behaved, good-natured crowd that I felt no discomfort, only a friendly buzz. Perhaps the difference is that it was a 'family crowd' while kanwariyas tend to travel in boy-bands.
I know it's an ancient practice that acquired renewed zest in north India after Independence. Some say it's because of a popular mytho-movie in the austerity decades. But the kavad or pilgrim pole is an old and ticking concept in the south as well.
It's called kavadi and there are old 'walking songs' in a particular rhythm, called 'kavadi chindu', that many know, not just male pilgrims. The yatris I've seen in that part of the country walk un-intrusively by the edge of the road.
North and south, I've seen that we can behave very well on yatra. So is the 'kanwariya syndrome' basically a male phenomenon? Is it about 'testosterone as a lifestyle' for the duration?
I think it may be. Attempting to find the practical reasons behind the customs, manners and ceremonies of our culture – which is not always the same as finding justification – I submit that the whole kanwariya exercise was a deep plan by our ancients. I think it was devised by the elders of our mostly agrarian society as a strategy to give restive village bucks something to do during the monsoon slowdown, so they wouldn't end up sparring and brawling out of boredom.
The Shravan yatra plan sent them out on an exciting adventure with a target, to bring back holy water for the village temple. The word went out across communities that devout householders along the kanwariya / kavadi route would gain merit by feeding and looking after these pilgrims and helping them complete their mission.
So while being a worthy adventure with long marches, arduous treks and stern rules, it was also one long party. Those who could were keen to go. That gave the village some peace until they heroically returned.
There was a Shravan plan for the stay-at-homes too. It was declared 'Ramayana month', with extra expounding of the Harikatha to pleasantly pass the long hours of being rained-in.
It's sad when a good idea is demeaned by inappropriate conduct. Please may our boys take the bypass next year and spare Delhi? 'Sarve jana sukhino bhavantu (Let everyone be happy)', after all.
(The views expressed are personal)