Seven leaves to a sprig and other stories: Shebaba by Renuka Narayanan
Nov 05, 2017 08:51 AM IST
Saptaparni has an ancient past in the annals of Ayurveda. Its bark-extract is said to boost immunity and help treat deep tummy disorders, malaria and epilepsy.
The saptaparni tree outside my window has not yet bloomed. Normally, it blooms from October to December, sending gusts of sweet, spicy scent my way. Why is this tree late this year, I wonder, and look reproachfully at Delhi's polluted skies.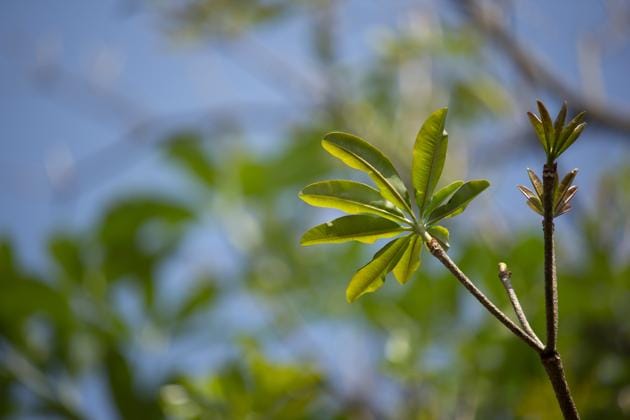 Saptaparni is Sanksrit for 'seven-leaved'; this tree's leaves grow seven or eight to a sprig. Saptaparni is also a name for girls. Said to be introduced to Delhi as recently as 1940, this tree has an ancient past elsewhere in the land, especially in the annals of Ayurveda. Its bark-extract is said to boost immunity and help treat deep tummy disorders, malaria and epilepsy.
Out south, the saptaparni is duly called 'seven-leaved' in Kannada, Tulu, Malayalam and Tamil — the words are paala, paalai and ezh-ilai.
I've read a theory that Palakkad, celebrated as the 'granary of Kerala' and the 'gateway to Kerala' from the Western Ghats and famous for the Silent Valley National Park and scenic Malampuzha, may have got its name from being covered, once upon a time, by a kaad (forest) of paala trees.
On the eastern seaboard, the saptaparni is the state tree of West Bengal. It's called chatim in Bengali. Graduating students of Vishvabharati University are ceremonially handed a sprig of saptaparni at convocation. I'm told there's a story behind this graceful cultural tradition.
Vishvabharati University was originally founded as an alternative Indian school in 1921, by Rabindranath Tagore, at Shantiniketan in Birbhum district, West Bengal. But before that, in the 19th century, Shantiniketan was apparently the name given to the only pukka building in a quiet, scenic village called Bhubandanga, after Bhuban Mohan Sinha, the zamindar of Raipur.
One day in 1862, Debendranath Tagore, the poet's father, happened to pass by while on a journey to Raipur. Charmed by the beauty of the village and given to serious spiritual practice, he halted there for some days and spent time meditating in a grove of saptaparni trees.
He felt so light and happy there that he bought himself 20 bighas of land and built a spiritual retreat that he named Shantiniketan, where his son eventually set up his school. And that's why the sprig of saptaparni is still handed to each graduating student at Vishvabharati.
Another tree that's famously been called 'seven-leaved' is the banana plant. In the Aranya Kand, Sarga 75 of the Ramayana, while in search of Sita, Ram and Lakshman halt at the lovely Pampa Lake. The trees, plants, flowering bushes and creepers around it listed by Valmiki may still be found across India, and some of their names may be found even today as people's names: Tilaka, Bakula, Mallika, Ashoka, Malati, Kunda, Madhavi, Lata. In this list is the other 'saptaparna'.
I'm sure 'my' saptaparni will bloom soon. Meanwhile, I'm glad for the green cover it provides and the stories its leaves rustle with.
(The views expressed are personal)