'Beta jab tu U19 khel raha tha na, tera baap Test player tha': PAK pacer's controversial comments on Kohli wreaks havoc
Feb 03, 2023 08:20 AM IST
In a startling interview, Pakistan pacer Sohail Khan recalled the 2015 World Cup match against India and revealed how after Virat Kohli charged at him first, he was forced to retort to a rather unpleasant remark.
It is no secret that Virat Kohli loves batting against Pakistan. Simply check his highest ODI score, top T20I innings or his average against them and you will get a clear picture just how much Kohli loves feasting on Pakistan bowling. His rivalries with their pacers have made for some legendary showdowns – Junaid Khan, Mohammad Amir and now Shaheen Afridi – but everytime Kohli takes centerstage against Pakistan, it is box office.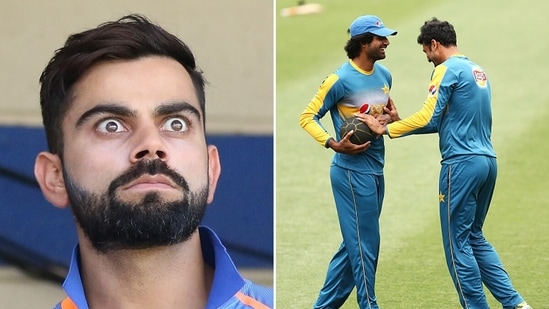 Having said that, one bowler whose rivalry with Kohli has hardly been mentioned is pacer Sohail Khan. He and Kohli came face to face only once – during the 2015 World Cup match between India and Pakistan at Adelaide. Kohli scored a blistering century – his second in World Cup taking India to 300/7 while Sohail stood out for Pakistan picking up a five-wicket-haul including that of the then-India vice-captain. Tempers flew between the two with Kohli and Sohail having a heated exchange even though no one was privy to the words they exchanged… until now. In a startling interview, Sohail has revealed that Kohli charged at him first, which forced him to retort to a rather unpleasant remark. It happened when Sohail came out to bat.
"Virat came. He said to me 'Aap cricket mein abhi aaye hain. And itni baatein karte ho (You've just arrived and you speak so much). I was a Test cricketer back then. I had played Test matches in 2006-07. Then in between I endured a troubled knee which forced me out of action. I said 'Beta jab tu Under-19 khel raha tha na, tera baap Test cricketer tha' (Son, when you were playing Under-19 for India, your father [referring to himself] was a Test player). That's how I said it. Then if you see carefully, Misbah intervened and he got angry at me. He asked me to keep quiet," Sohail said on the Nadir Ali Podcast.
However, almost eight years later, for Sohail, the Kohli episode is water under the bridge. Witnessing his rise to become one of the world's greatest batters, today Sohail has nothing but respect for Kohli. "I respect him today because he is a great batter, amazing," he added.
Sohail has played 9 Tests, 13 ODIs and five T20Is for Pakistan picking up 51 international wickets and although he hasn't officially announced his retirement, the 38-year-old last played a match for Pakistan nearly six years ago in September of 2017. He recently turned up in the Pakistan Cup for his team Sindh, picking up five wickets in three matches.