'Don't play IPL if you want to win WC': Rohit's childhood coach's brutal dig at India captain in stern message to team
Published on Nov 25, 2022 12:49 PM IST
With veteran and experts suggesting their way as to how Team India can turn in around in the next World Cup, in the 50-over format, next year, captain Rohit's childhood coach has urged the side to focus on workload management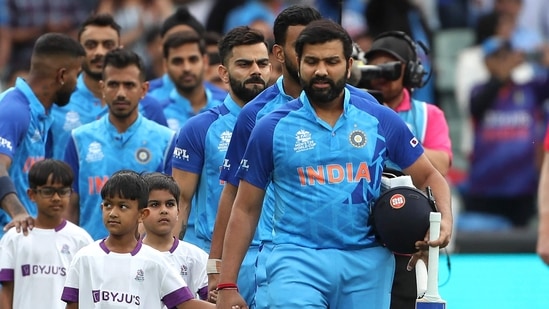 The unwanted trophy-less streak for Indian team in ICC events continued earlier this month in Australia when the Rohit Sharma-led side had lost in the semis. It has now been nine years since India last won a major ICC trophy, the last being the Champions Trophy in 2017. With veteran and experts suggesting their way as to how Team India can turn in around in the next World Cup, in the 50-over format, next year, captain Rohit's childhood coach has urged the side to focus on workload management. He rather took a brutal dig as the skipper as sent out a stern message to the Indian team. (India vs New Zealand Live Score 1st ODI)
Dinesh Lad feels that that Indian team should stop missing out on international matches to manage workload and feels it can rather be adjusted through IPL games. Speaking to Sportskeeda, the Mumbai-based coach further slammed the Indian side for not showing stability because senior players, including Rohit and Virat Kohli, were resting through some of the international fixtures.
"I thought, maybe, in the last seven-eight months, we are not a stable team. If we are preparing for the World Cup, it should be an established team. In the last seven months, somebody is coming to open the innings, somebody is coming to bowl, there is no stability," he said.
ALSO READ: 'Don't know if he wanted to say that in Dhoni style': Ashwin on Hardik's answer to tricky question on Samson
"I don't think so (on giving workload management as the reason). Everybody in the world is playing because they are professionals, not a workload you can say. Why are they playing in the IPL? Don't play the IPL if you want to win the World Cup. In actual professional grades, they should play every game (at international level) because we are getting something from that. It's not an honorary job and there should be no compromise in international cricket."
He further added: "It is on them only. How can I say this (whether players should drop their IPL contracts)? They will have to take a call on that. Because you have been playing for India and for your states continuously that's why you are considered for the IPL. Your international performance helps you determine your salary cap (in the IPL). So directly you don't get an entry into the IPL."
Rohit and Kohli along with some other regulars are presently not part of the ongoing New Zealand tour and are expected to be back for the Bangladesh series next month.