Drag-flick stalwart Peillat eyes a World Cup switch-hit with Germany
Jan 11, 2023 11:09 PM IST
The star defender who took Argentina to the 2016 Rio Olympics gold will be the driving force of his adopted nation at the hockey World Cup starting in Odisha on Friday
For the better part of the last decade, the thunderbolts that left Gonzalo Peillat's stick at penalty corners (PC) would more often than not beat defenders and the goalkeeper, ensuring a goal for Argentina. They invariably led to victories, matches and multiple tournaments.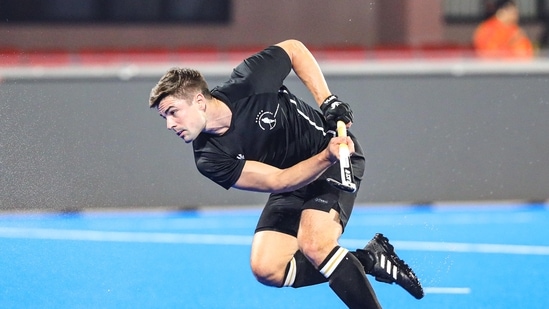 In an era where set-piece conversions are going down due to better equipment for rushers and new techniques developed by defenders, Peillat still managed to find that angle, that punch and timing to score.
His lethal drag-flicks took Argentina hockey from obscurity to the podium when he guided Los Leones to their first ever World Cup medal – a bronze – in 2014, emerging the tournament top-scorer with 10 goals. Two years later Argentina won a historic Olympic gold in Rio. Again, Peillat was the forefront of that triumph with 11 goals – the most in the tournament.
He handed Argentina many more victories until problems started in 2018. Peillat publicly started criticising the Argentine confederation (CAH) for changing coaches frequently. The defender could not adjust to the new setup, and eventually fell out with the team management. Peillat decided he had had enough. After playing his last international in the striped light blue and white jersey on January 20, 2019, Peillat quit the Argentina team with an unsure future.
"There were a lot of issues. It was a bit of everything. I left with a lot of disappointment... with the people in the confederation. We started to do something special together for the team and for the future of hockey in Argentina. And then finally I was just by myself. So, I decided to leave," he said.
Peillat – he has played in the now-defunct Hockey India League (HIL) for Kalinga Lancers and Uttar Pradesh Wizards – decided to move to Germany, where he has played for Mannheimer Hockey Club since 2016. The rumours about him changing nationalities were confirmed when Germany granted citizenship in February 2022.
Though a traditional powerhouse, Germany's success at major events had been declining. The four-time Olympic champions – they were on the podium at every Olympics from 2004 to 2016 – failed to medal in Tokyo, losing the bronze playoff to India. In World Cups too, after reaching three successive finals from 2002 to 2010, Germany finished sixth in 2014 and lost in the 2018 quarter-finals. The prime reason for this downfall was their poor PC conversion rate.
The German federation (DHB) made attempts to acquire the services of Peillat and a month after he acquired citizenship, the international hockey federation (FIH) announced he was eligible to play for Germany.
Eighteen days later, the familiar muscular figure of Peillat took the turf in Germany's all-black. The drag-flicker announced his international comeback immediately, converting a short corner 50 seconds into a Pro League game against Spain, guiding Germany to a 2-1 victory in Monchengladbach.
"When I got the citizenship, I had no idea I would be playing for Germany. I was interviewed (by the media) then and had said the decision will be up to the German coach, if he thinks I still have that level," Peillat said after a Germany training session in Bhubaneswar ahead of the World Cup starting on Friday.
"It's been very nice to represent Germany. They have a lot of history in hockey and always go into a tournament as strong contenders. They have a unique style but also a real quality."
The transition wasn't easy. Shifting to a different continent, new culture, new team, adjusting to a new set-up, learning German – it has taken much more than on-field efforts for Peillat.
"It wasn't easy. I was out of international hockey for three years. At the beginning, it was a big question mark – will I be able to perform, am I still at the level I used to be? I started really slow. I started with camps in Germany, did extra training and slowly kept switching levels to be able to be part of German team," added the 2014 FIH Rising Player of the Year award winner.
"The way we train in Germany is different. We do camps because we live pretty far away from each other. Last year, we did a lot of camps, not just all around Germany but also in Spain and South Africa. That is the only way because it is really difficult to centralise everything."
Peillat's moment of truth came when he faced Argentina in the Pro League on May 21, 2022. Determined to prove a point, he scored a brace in Germany's 6-3 win in Berlin. Germany won the next day too against them.
In November 2022, in the new Pro League season, Peillat scored again against Argentina in a 2-2 (4-3) victory via shootouts in the country of his birth. Three days later, Germany hammered Argentina 3-0 without Peillat scoring.
Is it emotional playing against Argentina? "No. It wasn't a problem. I am looking forward to play against everyone here. Belgium, Australia, India are a bit strong. I am looking forward to see how they will play in this World Cup."
He guided Argentina to unprecedented success. Can he repeat it with his adopted country?
Enjoy unlimited digital access with HT Premium
Subscribe Now to continue reading