'I wasn't in Ranji team, was preparing for IPL. Chetan sir called and said I've been picked for India': Jitesh Sharma
Jan 26, 2023 09:22 AM IST
In an exclusive interview with Hindustan Times, Jitesh Sharma, who has been selected as a back-up wicketkeeper-batter for the New Zealand T20Is, opened up on his feelings, journey and difference between the Indian dressing room and the IPL.
Patience and Jitesh Sharma go hand-in-hand. So do sudden happenings. His cricketing journey for the best part is like a soothing soundtrack but on a few occasions, it can also put high-octane action thrillers to shame. The Amaravati-born wicketkeeper-batter is a cricketer by chance in the first place. He wanted to go into the armed forces but started playing cricket as the army tests gave 4% grace marks to those who represented the state in Maharashtra. It was only when he got into the U19 side of Vidarbha that he started taking cricket seriously as the first-choice career option.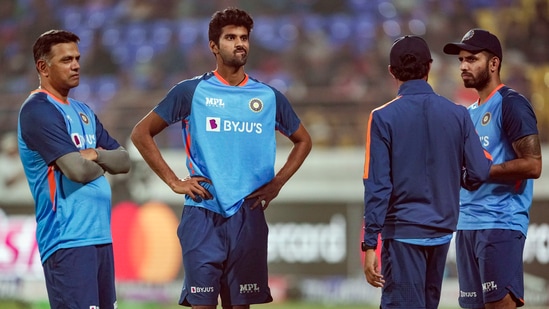 Jitesh made his List A debut in 2014 and scored a century in his third match against an Uttar Pradesh side led by then-India spinner Piyush Chawla. His exploits at the top of the order soon caught the eye of the IPL scouts and he was picked up by Mumbai Indians in 2017. But that was it, the waiting game began.
Jitesh could not break into the playing XI of the star-studded Mumbai Indians that eventually went on to win the title that year. He was released soon after. His domestic career dwindled for a couple of years before he decided to slide down in the batting order. From an opener, he turned into a finisher in the 2021-22 season of the Syed Mushtaq Ali Trophy and immediately turned heads with his six-hitting abilities. He finished as the highest six-hitter of the tournament with 19 sixes.
This time, Punjab Kings picked him up. Five years after a so near-yet-so-far season with MI, Jitesh made his IPL debut for PBKS. He played 12 matches last year, scoring at a strike rate of 163. "Everything changed from there. No one expects a domestic player to straightaway score at a strike rate of 160. Most of the IPL franchises think that their main capped players will score. But having played so many years in domestic cricket, I know how to handle situations because the fundamentals of cricket don't change," Jitesh told Hindustan Times in an exclusive chat.
The right-hander backed up the IPL performances with another good outing in the Syed Mushtaq Ali T20s, hitting 13 sixes in 10 matches to play a crucial role in Vidarbha's semi-final run.
The following Vijay Hazare Trophy (domestic 50-over tournament) wasn't that good for the right-handed wicketkeeper-batter. Just when he was mentally getting ready for another long haul, waiting for the IPL as he wasn't a part of the Ranji Trophy squad, he got a call from India's chairman of selectors. "Chetan Sharma sir called me and said, 'You have been selected for two remaining Sri Lanka matches'. I didn't get any moment to celebrate because I had to run for Pune for the remaining matches," the 29-year-old said. He was named as the replacement of Sanju Samson, who was out with a knee injury, for the two T20Is against Sri Lanka.
"I was not aware that I would get a call. I was not expecting a call-up. I was just preparing myself for the IPL because I was not in the Ranji Trophy squad. So I was working on my fitness. But all of a sudden, I got the call. Obviously, I was happy and eager to get the chance. After that call, everything changed. I am getting a lot of calls from my relatives, school, and clubs but I am keeping things simple. I am preparing myself for every single opportunity," he said.
The attacking right-hander was retained in the India squad for New Zealand T20Is starting from January 27. "I feel a lot more responsible now. I feel strong when I enter the dressing room. Ye India ka call mila hai means (I have got an India call-up) I am a strong person to handle this responsibility. I don't feel any extra pressure," he added.
Asked whether his role has been defined in the Indian team, Jitesh said he knows he has to bat in the middle-order and play attacking cricket. "Yes, I know my role. I will play as a finisher if I get an opportunity. I know many of these guys (Suryakumar Yadav, Hardik Pandya) as we have played against each other in domestic cricket or IPL. There was no problem in adjusting. All of them were very welcoming."
Jitesh also talked about the difference between the atmosphere in the IPL and the Indian dressing room.
"You get a homely feeling in the Indian dressing room. Apne log hai apni bhasha mein baatein karte hai (We can talk and discuss things in our language)," he opined.
Jitesh, who has been selected as a backup keeper, knows he has to continue working on keeping skills along with batting to get that Indian cap.
"Keeping really helps me. If I keep well, it translates into my batting. As a keeper, I get a fair idea about how the pitch is behaving," he said.
As astonishing as it may sound, Jitesh Sharma's mother doesn't know the details about his cricketing achievements. All she cares about is her son's well-being and happiness.
"My mother is a simple woman. She still doesn't know that I play in the IPL or I have been selected for the Indian team. She asks me if I can bowl or not. I say yes, without even trying to convince her that I am a keeper-batter. Every time I pack my bags to leave, she will always warn me not to do anything out of the ordinary or something that may get me in trouble. For her, I will always remain her little one, no matter what I do on the cricket field," he said.