India find their T20 groove
Feb 02, 2023 11:06 PM IST
The last few weeks might have marked a turning point in this team's evolution
Since the 2022 T20 World Cup, India have played three bilateral series, winning all and losing just two out of eight completed matches along the way. Such highs, as India must have learnt by now, aren't a great tell of their World Cup readiness but this different phase has a different feel to it. This is a team that is finally beginning to grasp the rudimentary concepts of T20 cricket through a different leadership and a younger bunch that has shown a greater risk-taking appetite.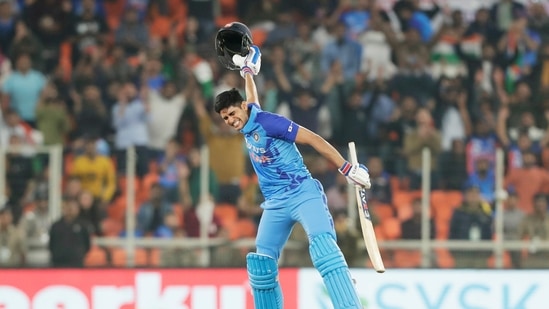 Twice India have breached the 200-run mark in this short but redemptive journey. Twice too were the occasions India let the opponents score more than 160. They lost both, but in the process Washington Sundar's worth as allrounder was re-established. Kuldeep Yadav is being slowly eased in, as are Umran Malik and Shivam Mavi. And to top it all, Hardik Pandya's sharpened nous with both new and old ball allows India to juggle around their fast bowlers without losing sting upfront. Four overs from Pandya is a given now. Not just that, expect bouncers and a fair amount of zip if the pitches allow.
He bristled with the bat as well. Clearing the boundaries was always Pandya's forte. But now he looks to dig his heels, take the game to the wire and play with the psyche of the bowlers.
"See, to be honest, I've always enjoyed hitting sixes, but I have to evolve and that is life," said Pandya after leading India to a 2-1 series victory over New Zealand in Ahmedabad. "I have to take the other part where I've always believed in partnerships. I want to give my team and the other person more calmness and the assurance that at least I'm there. I've played more games than any of those guys out there. So, I've known the experience and more than the experience part, it's where I've batted, and I've learned how to accept pressure and I've learned how to kind of swallow the pressure and kind of make sure the team and everything is calm."
He might sound a bit brash but Pandya has correctly identified his strength and is willing to play to it. Like in Ahmedabad where all he seemed to do was give Shubman Gill the strike, letting him demolish the bowling. But Pandya still finished with a strike rate of over 176.
"I don't mind coming in and playing the role which somewhere down the line Maahi (MS Dhoni) used to play. I think at that time, I was young, and I was hitting all around the park, but now since he has gone, all of a sudden that responsibility... It has just naturally come to me, and I don't mind. We're getting the result we want and it's okay."
On the batting front, Suryakumar Yadav hasn't strayed from his uncomplicated approach to batting, while continuing to impart serenity to a top order without Rohit Sharma, Virat Kohli and KL Rahul. But pivotal has been the form of Gill, who clearly is enjoying a breakthrough phase of his career.
"It feels good when you practice and it pays off," Gill said on Wednesday after his Man-of-the-Match winning 126 off 63 balls. "I was backing myself to get the big ones even in one-dayers and T20s, and unfortunately it didn't happen for me in the Sri Lanka series and in the first couple of matches here. But I'm happy to get the big ones for the team."
Gill's white-ball consistency shouldn't be surprising, for he has been doing it for more than a year. But what he did at Ahmedabad, shaking off years of criticism that he isn't quick enough for this format, was just the shot in the arm India needed to be convinced that moving forward with the youth was the correct decision.
Unruffled and reassuring, Gill was all about understanding what he needed to succeed in this environment, carefully nudging the series momentum in India's favour. "I think we dropped him three times, which doesn't help, but yeah, he kind of applied himself early on the surface," said New Zealand captain Mitchell Santner. "He knew that it (the pitch) was good to bat on and I think his first fifty might have been off 30-odd balls and then his last 70 off 20-odd balls."
With the focus shifting to the ODI World Cup this year, India have been allowed time to quietly engineer a T20 transformation. And since it had to start from the top, Gill's hundred comes as a timely confirmation of India's progress. The bowling was always strong but there is still a lot of ground to cover. More importantly, India are learning to deliver without their stars.
The markers have been laid out and the core has started to come together under Pandya's leadership. In the aim to revitalise India's chances of winning the next T20 World Cup, the last ten weeks might have marked a turning point in this team's evolution.
Continue reading with HT Premium Subscription
Daily E Paper I Premium Articles I Brunch E Magazine I Daily Infographics