'He never looked back after that': Shubman Gill's former KKR captain recalls him 'craving for opening position'
Feb 02, 2023 08:30 PM IST
Shubman Gill seems to have made the opening position his own in the Indian team in white ball cricket with extraordinary recent performances.
India's ongoing cricket season is turning out to be a career-defining one for Shubman Gill. He scored his maiden Test century in December and followed that up by racking big scores in ODIs, including a double century. He has now capped it all off with a maiden T20I century.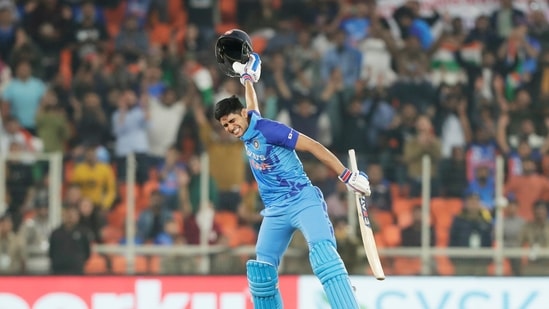 All of these performances have come with him opening the batting for India and it has made him the first choice for that position in white ball cricket at least. It wasn't too long ago, however, when the 23-year-old was struggling to make a mark in that position playing for Kolkata Knight Riders in the Indian Premier League (IPL), let alone for India in international cricket.
Dinesh Karthik, who was KKR captain when Gill made his IPL debut in November 2018, recalled that the Punjab batter showed good temperament even at a young age. "I have seen him in close quarters and there is something special about him. The first thing I observe is temperament. That was there in abundance. At KKR when I was captain, we sent him at No.6 and 7. Those are hard spots to play. Even now you can see a Deepak Hooda coming and (struggling), it's not easy. He went in and did that job with aplomb. He would take the team through," said Karthik on Cricbuzz.
"He was craving for an opening position. He came and told me that 'DK bhai I want to open. Please give me this opportunity'. We were also not sure at that stage whether we want to continue with (Sunil) Naraine at the top of the order. He wasn't giving as much as we thought. He never looked back after that."
Karthik noted that Gill would rarely be inconsistent because he has got his basics worked out. "With Shubman you are not going to get inconsistency. At the base he has got a very solid technique. He can always fall back on that. The tempo with which he starts is simple in most matches but his beauty comes out in games like these when he has made a score, he is happy with where he is. What he did wrong was that he was just pulling instinctively and that is exactly what he changed. If you watch closely, before he reached his first 50 (during his knock on Wednesday against New Zealand) he played a lot of pull shots but everything was on the ground and that was a conscious effort. They were all singles, at maximum two. That is what batsmanship is all about," he said.
Gill blazed 126 runs in just 63 balls against New Zealand in the third T20I. It helped India score a mammoth 234/4 and they then got New Zealand all out for a paltry 66, this winning the three-match series.