Son of soil Rohidas revels in front of home crowd
Jan 14, 2023 08:23 PM IST
Hailing from the illustrious Sundergarh belt, Amit Rohidas braved an impoverished beginning to become one of the world's best first rushers
The moment the emcee announced Amit Rohidas' name, the crowd went berserk. The loud roar became ear-splitting when the 29-year-old hammered in India's first goal of the World Cup in the opener against Spain on Friday evening.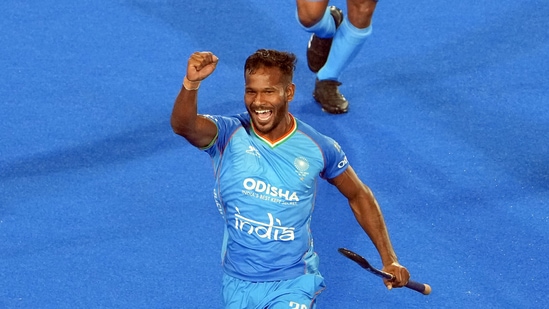 It was a special moment for Rohidas. Not only did that strike help the hosts win 2-0, it came in a town that has quite literally bred him. The hockey player was only 11 when he left his family in Saunamara village of Sundergarh district to settle down at the State Sports Hostel in Panposh — a part of Rourkela — to learn the tricks of the trade. The hostel is just 2km from the new 20,000-seater Birsa Munda Hockey Stadium – one of the two venues of the World Cup along with Kalinga Stadium, Bhubaneswar.
"It is a feeling I cannot describe. This is my second World Cup at home. I already played in Bhubaneswar 2018. I am feeling very proud. I have spent my childhood right here, my hostel was right there," said Rohidas, vice-captain of the Indian team
"I feel very happy and proud to play in front of the hostel where I grew up, where I learnt everything. Playing in front of my own people, in my own district is a special feeling."
Sundergarh district has produced several India internationals with Saunamara village itself churning out the likes of former India skipper Dilip Tirkey, Subhadra Pradhan, Bikash Toppo, Dipsan Tirkey and Rohidas himself.
"My father used to play when he was young. My elder brother too played in local tournaments but he did not get selected for the sports hostel. I followed in their footsteps. Now, my brother's one-year-old son has already started holding a small hockey stick I gifted him," said Rohidas, who made his India debut in 2013.
During his childhood, the Tokyo Olympics bronze medallist lived in a mud house which had no electricity or water supply. Though passionate about the sport, his family could not afford a stick which led him to make a stick out of bamboo and play with his friends.
"Money was a big issue back then. My farmer parents had to struggle a lot to make me play. We worked on someone else's land. My father even went to Goa and Gujarat to work in order to support my career. I got my first proper stick only when I joined the hostel in 2004," said Rohidas, remembering his father Gopal who passed away two years back.
"With God's grace, everything is fine in my family now. There is no financial problem. Hockey has given me everything. We broke the mud house and built a good one on that spot itself," he said.
Not just his family and relatives, even his neighbours came to see the son of the soil play on Friday night and will do so again as India face England in the second Pool D match on Sunday.
First rusher
It was in Panposh that Rohidas started to brush his skills to finally enter the junior national setup in 2011 before making his senior India debut at the 2013 Sultan Azlan Shah Cup.
Along with developing his stickwork, Rohidas got involved in a role that has made him not just the best in India but perhaps the world. Ever since he made his debut, Rohidas has acted as a first rusher or runner, with his legs getting hammered day-in, day-out.
Rushers, as the name suggests, run towards the drag-flicker during penalty corners (PC) to try and block the ball. The faster and the more aggressive the rusher, the lesser is the angle for the PC specialist to exploit. The last decade has put the responsibility of defending in PCs on the rushers more than goalkeepers.
"Rushing is one of the main reasons why Rohidas is in the team. He is one of the best in the world for sure," says former India analytical coach and Australian drag-flick legend Chris Ciriello.
Rushing is to Rohidas what fielding was to Jonty Rhodes, something the South African cricketer has admitted many times.
"Only those who have dum (courage) can do this job. It is God's gift to me. I've been doing it for so many years that now I have the confidence to do it all the time. Earlier it was just bravado but later I learnt the techniques too. Like how to pace my run, the direction, if I come out fast how to counter the flick, if I go slow then what to do. I have the knowledge so not scared anymore," said Rohidas, who is employed with the Railways.
It is normal for first rushers to take body blows. The legs of a regular rusher would be full of scars. But it doesn't scare Rohidas.
"I am still improving when it comes to the technicalities. When I started it was slightly different and I was a little scared. But experience has taught me that technique is everything. If you know the techniques, there is no need to be scared. Plus, the equipment has improved a lot so there is full safety," said Rohidas.
"Of course, I have been hit and wounded many times. But you have to understand that the first rusher is also a goalkeeper from one perspective. The wounds do pain but I have resilience. If I'm playing for my country, there's nothing to be scared of. I just give it everything."
Topics