'Virat Kohli wasn't told 'your cricket is over...'': Umar Akmal 'ashamed' after reporter's jaw-dropping revelation
Feb 02, 2023 01:27 PM IST
Pakistan cricketer Umran Akmal had an emotional reaction when he was told there were chits sent to his domestic side's captain asking not to play the 32-year-old wicketkeeper-batter.
Over the past few years, Pakistan cricketing setup has seen a series of changes, right from changes in men's team's captaincy to exit and return of Najam Sethi as chairman, with former Pakistan captain Ramiz Raja being unceremoniously sacked last year. There were chopping and changes in the Pakistan squads across formats, with many key exclusions from the side; former captain Sarfaraz Ahmed had not only lost his leadership role, but also struggled to find a place in the Test XI before making a resounding comeback against New Zealand last month.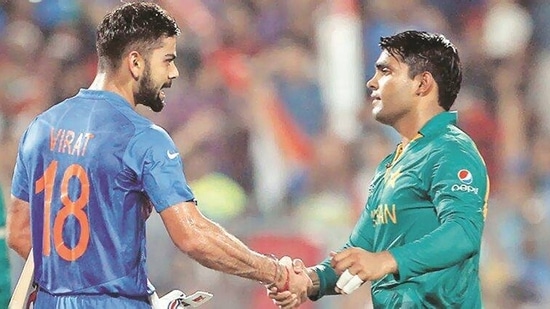 However, one player who has been away from Pakistan's side for over three years now is Umar Akmal, the wicketkeeper-batter who has represented the side in 16 Tests, 121 ODIs and 84 T20Is so far. In 2020, Akmal was handed a ban for failure to report spot-fixing approaches during the fifth edition of the Pakistan Super League; he was also suspended by the Pakistan Cricket Board.
Also read: Shubman Gill and India shattered 10 T20I records in the 3rd match vs New Zealand
Since then, Umar apologised and made a return to the country's domestic setup, but hasn't received consistent opportunities in first-class cricket. He did, however, play in the List A tournament for Northern Pakistan in 2022.
During an interview with Pakistan journalist Hafiz Muhammad Imran, Akmal was told by the reporter that Raza Ali Dar, a Pakistan cricketer who had led Akmal during a domestic tournament, was asked to not play the 32-year-old wicketkeeper-batter for reasons unknown. Reacting to the revelation, an emotional Akmal drew a parallel of his struggles with those of India's batting great Virat Kohli.
"I feel very ashamed that Raza said that in such a straightforward way. He should've taken names of people who called or sent chits saying that I shouldn't be played. I've given so much for Pakistan, I don't deserve this treatment. PCB's role is to support their players during tough times," Akmal stated.
"A big example for this is Virat Kohli. He wasn't sidelined when he couldn't perform. They continued to play him here and there, he wasn't told that your cricket is over. I'll give credit to the Indian cricket board that they supported him," said Akmal.
Kohli endured a rough patch mid-way through 2022, and even took a break from the game for a month; however, the former India captain made a brilliant comeback in the Asia Cup in September, where he also ended his three-year long wait for an international century. Since then, the India batting great added three more centuries to his name – all in ODIs.