13,000 DDA flats get Delhi L-G nod; no sale embargo but penalty on withdrawal
May 26, 2017 09:45 PM IST
The DDA will put up around 13,000 flats in its housing scheme this year. The authority has put in place multi-tiered penal measures for those who withdraw from the scheme.
The last hurdle for the launch of DDA's new housing scheme has been cleared as Lieutenant Governor Anil Baijal, who is also chairman of the DDA, gave his nod for the scheme this week.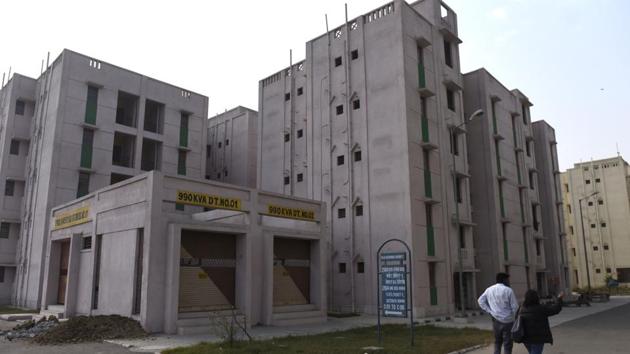 The development authority will put up around 13,000 flats for sale under its housing scheme this year.
Under the scheme, there are around 350 two-room Middle Income Group (MIG) flats, while the rest are either one-bedroom Lower Income Group Flats (LIG) flats or janata flats.
The exact date of launch of the scheme is yet to be decided, but it is most likely to be in mid-June.
Multi-tiered penal measures
Earlier, there were reports that people whose names figured in the lucky draw of lots will have to purchase the flats or forfeit the registration amount. However, JP Aggarwal, principal commissioner (land disposal and housing) of DDA said that multi-tiered penal measures have been adopted for people who withdraw from the scheme.
If a person surrenders his application before the draw date, no money would be deducted from the registration fee. Twenty five per cent of the registration amount will be forfeited of those who withdraw after the draw of lots and before the issue of demand letter, 50% of the money of those who withdraw within three months and the entire sum will have to be forfeited if withdrawn after that.
Restriction on sale of DDA flats
Ending the speculations over whether DDA will put a five-year sale embargo, he said DDA is not putting any such restriction and a person will be free to sell these flats whenever they want.
The flats are spread across the city in places such as Sarita Vihar and Jasola in south Delhi, Dwarka in southwest, Pitampura and Rohini in northwest, Dilshad Garden in northeast, Paschim Vihar in the west and Mukherjee Nagar in the north.
Most of these flats — the LIG and Janta units — are surrendered by people who find them to be smaller than what was promised, or feel the neighbourhoods are underdeveloped, like lack of roads and streetlights and inadequate water supply.
Which banks to go?
The urban body has tied up with 10 banks for sale of application forms and scheme-related transactions. The are: Axis Bank, Yes Bank, IDBI, Bank of Baroda, Central Bank, SBI, Kotak Mahindra and HDFC, ICICI Bank and Canara Bank.
See before you book
People can to visit the areas where the flats are being offered before deciding to invest in the scheme. "The agency may start giving possession around November-December as the unfinished civil work and services in the colonies will be completed around that time," a DDA source said.