2008 BMW hit-and-run case: Utsav Bhasin gets 2 yrs in prison, survivor unhappy
Hindustan Times |
Snehal Tripathi and Abhinav Rajput
Jul 15, 2017 09:41 PM IST
Utsav Bhasin was 21 years old when he hit two men who were on a motorcycle. Bhasin was caught when he was trying to flee to Chandigarh. The court had held Bhasin guilty and passed the verdict in May this year.
A Delhi court on Saturday sentenced 30-year-old Utsav Bhasin, to two years in prison for the 2008 BMW hit-and-run case. The court also imposed a fine of Rs 10 lakh for the family of the deceased and Rs 2 lakh for the injured.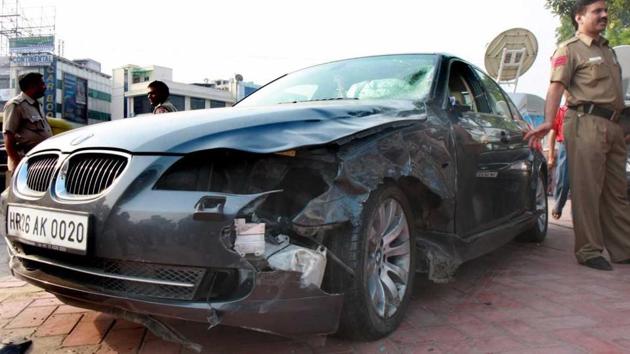 The victim, however, expressed dissatisfaction with the sentence. Mrigank Shrivastava, who was at the court proceedings said, "I am very unhappy. Initially, the harsher charges dropped and now two years for killing a person and destroying my life. I have spent around Rs 17 lakh in treatment and I have got just Rs 2 lakh as compensation." Shrivastav had suffered a leg injury in the accident while his friend Anuj Chauhan had died.
Additional Sessions Judge Sanjeev Kumar passed the order around 4.50pm in a packed courtroom. Utsav Bhasin, son of a Haryana-based businessman, was held guilty of rash driving, voluntarily causing hurt on provocation and causing death by negligence. The court had passed the verdict in May this year. Bhasin was, however, acquitted of charges of culpable homicide, in which the maximum punishment is up to 10 years.
Read: Five other infamous luxury car mishaps on Delhi roads
On September 11, 2008, Bhasin, who was driving his BMW car, hit two men — Anuj Chauhan and Mrigank Shrivastava — near Moolchand flyover in south Delhi. The two men, who were on a motorcycle, were returning home after watching the movie Rock On. Chauhan died two days after the accident and Shrivastava suffered leg injuries. At that time, Bhasin was 21 years old and was doing BBA at IILM in Lodhi Colony.
He was, later, arrested from the Interstate Bus Terminus at Kashmere Gate while attempting to flee to Chandigarh. He was later released on bail after giving two sureties of Rs 20,000 each.
Chauhan's brother Kahitij Chauhan said that the family will go to High Court and questioned why harsher charges were dropped it should be reinstated demand harsher charges to be
In May, the court had convicted Bhasin under Sections 304A (causing death by rash and negligent act), 279 (driving rashly which could endanger human life) and 338 (causing grievous hurt) of the Indian Penal Code (IPC).
He was acquitted of charges under Section 304 (culpable homicide not amounting to murder) citing lack of evidence to prosecute him on harsher terms.
The court observed that the witnesses did not support the charges of culpable homicide not amounting to murder.
Anuj Chauhan, who suffered injuries on cervical spine and later died, was working as a freelance journalist and pursuing a course in graphic designing and animation at a private institution in south Delhi.