2008 BMW hit-and-run: Survivor remembers dead friend's wish to make a film like Rock On
Dec 27, 2019 05:38 PM IST
A Delhi court on Saturday sentenced 30-year-old Utsav Bhasin, to two years in prison for the 2008 BMW hit-and-run case. The court also imposed a fine of Rs 10 lakh for the family of the deceased and Rs 2 lakh for the injured.
September 11, 2008 was a busy day for Mrigank Srivastava, who had just passed from a journalism college and was working as an audio visual director in a private news channel. His friend Anuj Chauhan had booked tickets for the movie Rock On. The euphoria did not last long, Chauhan died that night in what came to be known as the 2008 BMW hit-and-run case.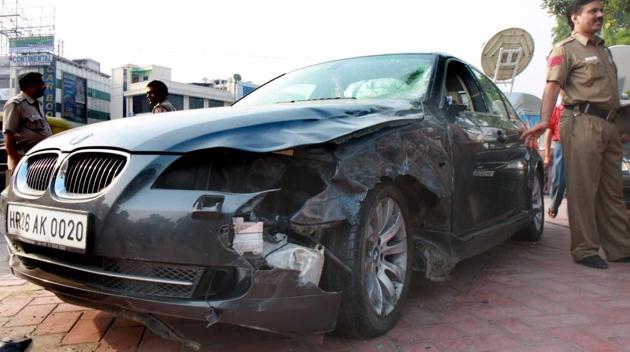 Remembering the last few hours he spent with Chauhan, Srivastava said that while returning from the movie, his friend revealed a wish. "He said he too wanted to make a movie like Rock On!" Srivastava said.
Srivastava was at the helm of a Bajaj Pulsar 150 bike and Chauhan was riding pillion. They duo had reached BRT corridor near Moolchand flyover, when it was hit by a car being driven by Utsav Bhasin, son of a Haryana-based businessman, killing Chauhan and injuring Srivastava.
"I now keep thinking … What if my boss had asked me to work extra hours? What if the BRT wasn't built and we could have chosen an alternate route? What if we hadn't got tickets?" said Mrigank, adding, "We were hit for no fault of ours."
Though he survived the accident, Srivastava had led a tragic life since then. The doctor removed 80% of the food sack from his stomach. His current health condition does not permit him to eat more than two rotis and some fruits a day.
The movie is an excruciating memory for Srivastava: If it gets telecast on TV, he quickly flips the channel. The pulsar motorcycle is housed on the terrace of his house in Vaishali.
"When Rock On 2 was released, my family wanted to watch it, but I just couldn't. I avoid going to the terrace, since the bike is there. I have kept it only since it is an important proof," he said.
The Delhi court, besides awarding two-year imprisonment for Bhasin on Saturday, also ordered Rs 2 lakh to Srivastava.
"I have spent more than Rs 17 lakh in my treatment. Due to the current status of my health, I am forced to use a car even if my financial condition is stretched. But the bigger question is, why were harsher charges dropped on him? We will go to court," Srivastava said.
The court had, in May this year, acquitted Bhasin of harsher charges, but convicted him under the lighter offence of causing death by rash and negligent driving in the case. The charges of culpable homicide, in which the maximum punishment is up to life imprisonment, was dropped.
Kshitij Chauhan, Anuj Chauhan's elder brother, said the family would go to High Court. "We will demand that the convicted be implicated under harsher charges of culpable homicide," he said.