3 years of AAP govt highlights: Delhiites question CM Kejriwal over women's safety, odd-even
Hindustan Times, New Delhi |
, New Delhi
Sweta Goswami, Ashish Mishra and Gulam Jeelani
Feb 14, 2018 10:46 PM IST
As Aam Aadmi Party completes three years, chief minister Arvind Kejriwal and other cabinet ministers highlighted their government's achievements and answered questions from the public.
The Aam Aadmi Party government completed three years in Delhi on Wednesday and to mark its anniversary, chief minister Arvind Kejriwal and other cabinet ministers addressed the public.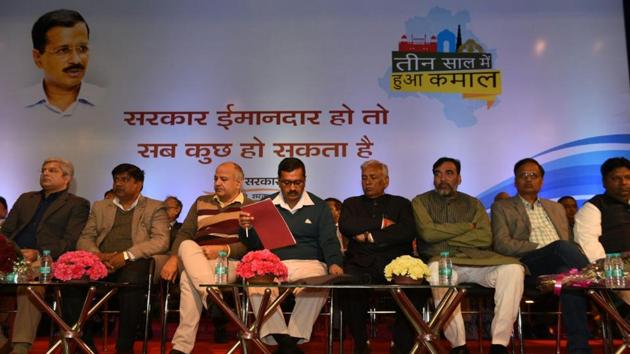 An event was organised at New Delhi Municipal Council's convention centre where Kejriwal took questions from the public on Twitter and via email and phone. The government's achievements in the water, power, health and education sectors were highlighted by both Kejriwal and deputy chief minister Manish Sisodia.
Here are the updates:
1.14 pm: Kejriwal responds to a question on making the odd-even drive permanent, saying it cannot be a year-round solution. "We studied a lot of cases from abroad. In their comparison, our drive was the longest. Other countries keep odd-even only for 2-3 days. To combat pollution we have to find long-terms solutions," he says.
1.08 pm: Kejriwal fields questions on the lack of street lights, parking, corruption and women's safety from residents, many of whom reached out to the Delhi chief minister via Facebook and Twitter.
1.07 pm: In a response to a question over his government's efforts to curb corruption, Kejriwal says, "In our 49-day government, our most important quality was that we had completely put a stop on corruption... That time ACB (Anti-Corruption Branch) was with us and even in the next government, we had ACB for three months. I have no hesitation in saying this that after those three months, corruption in the retail market has somewhat increased. I hope that once the SC court gives a decision on the ongoing case over administrative jurisdiction, we will be able to fight corruption with the same vigour as we did in the 49 days."
1.03 pm: Athlete asks Kejriwal that unless it is something like Asian Games, there is no scheme for sportspersons and they have to pay to take part in tournaments. Kejriwal responds that the Delhi government has recently drafted a policy to give up to Rs 16 lakhs to sportsperson
1.02 pm: Kamla from Rohini asks the CM why senior citizens still have to pay for rides in DTC buses, despite the government's promise. Kejriwal says order has been issued.
12.56 pm: The Delhi chief minister is now taking questions from the public and Twitter. Delhi resident Shubham Tuteja asks about the city's parking problem, Kejriwal asks municipal officials to respond.
12.45 pm: Manish Sisodia says from next academic session, Delhi government will launch 'Happiness Curriculum' in schools from classes 1 to 8 to develop critical thinking.
12.43 pm: Our target is to ensure best education facilities for 26 lakh students of Delhi. The dream is to see students from private schools joining government schools, says Sisodia.
12.28 pm: The country's GDP is going down and Delhi revenue collection increasing. What else should we do to prove how honest our government is, asks deputy chief minister Manish Sisodia at AAP's three year anniversary event.
12.15 pm: Kejriwal says files for Delhi government's projects get stuck. "Put all our MLAs and ministers in jail, but please clear the files quickly," says the Delhi chief minister.
12.04 pm: Kejriwal says this year will witness massive investment to improve the condition of existing roads and drains and also to construct new ones. By the end of this year, roads and drains related works will be completed.
"Road repair works always used to take a long time. Me and L-G decided that whosoever cuts the road, the responsibility of repairing that road will be on that agency, irrespective of who owns the road," says Kejriwal.
12.02 pm: Delhi government will carry out a study to find exact reasons of pollution in different parts of the year, says Kejriwal.
"We took a tough decision by rolling out odd-even scheme. We thank Delhiites for participating in this...But odd-even is only a temporary measure," says Kejriwal.
11.59 am: "We have seen inflation in the country. But the Delhi government has set an example by reducing power bills," says Kejriwal. "We met a peak power demand of over 6200 MW in summers and power cuts reduced drastically. This was possible as more than 500 new transformers were added."
11.57 am: "The homeless are nobody's voters. So nobody used to care for them.90 new night shelters have been built. More than numbers, the quality of these shelters is important," says Kejriwal, adding that a Supreme Court-appointed committee rated Delhi's night shelters the best in India among all states.
11.50 am: Kejriwal says Delhi government will buy 2000 new buses and 500 new electric buses. Electric rickshaws are being given subsidy.
The Delhi CM says water is another big area where Delhi govt has done a lot of work, with 338 unauthorised colonies getting water pipelines.
11.43 am: There has been a 33% (from 3 crores to 4 crores) increase in OPD traffic of govt hospitals in the last three years. First time, a government has introduced a 'Good Samaritan Policy' for those who take a patient in the 'golden hour' - Delhi government will bear all treatment expenses of that patient, says Kejriwal.
11.37 am: Kejriwal talks about how AAP developed a three-tier system for health care, with mohalla clinics, polyclinics and super and multi- speciality hospitals. "One hundred and sixty mohalla clinics are ready and land for 786 more clinics have been identified. The aim is to provide one mohalla clinic at every five kilometres, it will be walkig distance for everyone," says Kejriwal. 120 polyclinics will be ready soon.
Talking of hospital beds, he says, "The Delhi government has 10,000 beds already... we will add 3000 more beds by end of this year and then 2500 for next year. In our five year tenure, we will increase hospital bed capacity by 50% that is the aim."
11.35 am: In his address, Kejriwal highlights the AAP government's achievements. "We have done a lot of work across different sectors, but the maximum work done was in health and education sectors. Since independence, this is probably the biggest investment made by any government."
10.58 am: Chief minister Arvind Kejriwal and deputy chief minister Manish Sisodia arrive at the NDMC centre to for a function marking three years of AAP government in Delhi.