AAP's RS nomination list out, Vishwas says punished for 'speaking truth'
Jan 03, 2018 11:04 PM IST
The decision was taken at Delhi chief minister Arvind Kejriwal's residence in a meeting attended by around 56 AAP MLAs. Elections to three Rajya Sabha seats from Delhi would be held on Jan 16.
The Aam Aadmi Party (AAP) on Wednesday nominated senior leader Sanjay Singh, Delhi-based businessman, Sushil Gupta and chartered accountant Narain Dass Gupta as its Rajya Sabha nominees, triggering a spat within the party and attracting criticism from opposition parties on its picks.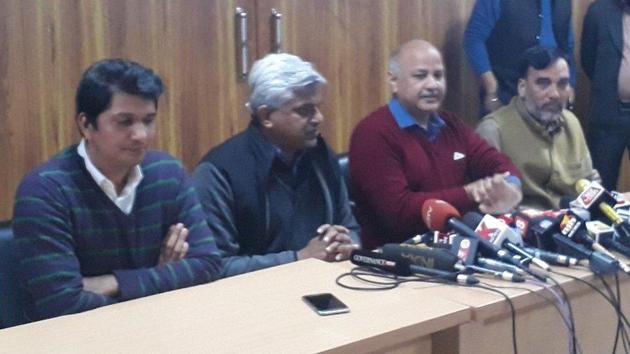 "After deliberations over eight names in the Political Affairs Committee (PAC), we have decided to nominate party leader Sanjay Singh, chartered accountant, Narain Dass Gupta and social worker, Sushil Gupta for Rajya Sabha," said Delhi's deputy chief minister, Manish Sisodia.
Both the Guptas are not very well-known and the move to pick them comes after former Reserve Bank of India governor Raghuram Rajan, former union ministers Yashwant Sinha and Arun Shourie, and former chief justice of India TS Thakur turned down AAP's offer of a Rajya Sabha seat. The decision to nominate Sushil Gupta, a businessman and a former Congressman, over a host of party leaders has not gone down well with many including AAP leader Kumar Vishwas.
"Be the PAC or my elder brother Arvind Kejriwal's decision on issues like the surgical strike, taking a soft stand on terrorists, his silence on ticket distribution and JNU... whatever truth I spoke, I have been rewarded and punished today," said Vishwas, whose views on many of these issues ran counter to AAP's own,
Justifying the nominations, Sisodia said Singh was chosen for his grassroots work as a leader in Uttar Pradesh; Dass Gupta for his contributions in economics and government policies; and Sushil Gupta for his work in the areas of health and education.
Dass Gupta, 72, is a practising chartered accountant, and a former president of the Institute of Chartered Accountants of India (ICAI). Gupta, 56, is a businessman who runs Delhi's Ganga Group of Institutions and hospitals. He contested and lost the 2013 assembly election from Moti Nagar on a Congress ticket. He had declared assets worth Rs 164 crore in his election affidavit.
Responding to queries on Gupta, Sisodia said, "I think a person who sponsors 15,000 underprivileged students is a deserving candidate." He said all nine PAC members agreed on Singh and Dass Gupta, and one objected to Gupta's nomination. AAP said the party's senior leader Ashutosh, also in the running for a Rajya Sabha seat, opposed Sushil Gupta's nomination.
Gupta resigned from the Congress party on November 28, 2017. Delhi Congress chief, Ajay Maken shared his resignation letter and a photograph, saying "less said the better".
Elections for three Rajya Sabha seats from Delhi are scheduled on January 16; terms of the incumbents, Dr Karan Singh, Janardan Dwivedi and Parvez Hashmi, all from the Congress, expire on January 27.The ruling AAP which has an overwhelming majority of 66 members in the 70-member Delhi Assembly, is set to win all the three seats. The three candidates are likely to file nomination on Thursday.
AAP's estranged founder Yogendra Yadav was among those who attacked party chief Kejriwal for the choice of Gupta, saying he was ashamed on having defended him (Kejriwal) against the charges of corruption earlier.
"AAP , made from the ashes of Anna Andolan, on the promise of representing the common man, has nominated 2 khaas Aadmis, Narain Dass Gupta and Sushil Gupta, to the Rajya Sabha. Far from "aam aadmi" it is a party of "khaas aadmi," tweeted Vijendra Gupta, the leader of opposition in Delhi assembly.