At Delhi's Jama Masjid, nobody goes hungry during iftar
Jul 03, 2017 03:54 PM IST
In Jama Masjid, roughly 500 people come every evening empty handed, with the hope of getting an iftar platter.
It is another evening of Ramzan. Around five minutes before sunset, 28-years-old Mohammad Uzair is hovering around a never-ending dining spread in the northern corner of the courtyard of Delhi's Jama Masjid. "Khaala, paani piyo filhaal (aunty, take water as of now)," he tells an elderly woman, who wants a portion of the iftar meal. Uzair's supply is over after arranging iftar platters — each containing two dates, one banana, pakodas and a glass of shikanji — for over 300 people on the dastarkhwan (dining spread).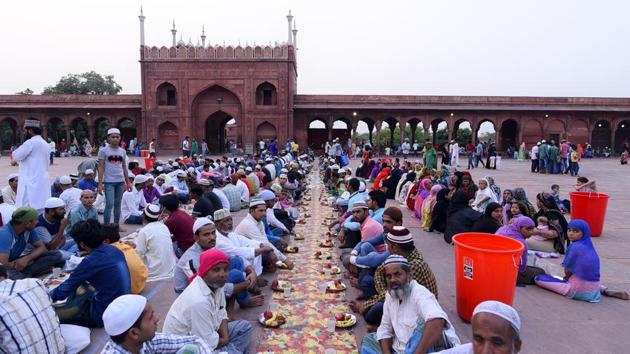 Apart from families who carry their own iftar meals, roughly 500 people come to the Jama Masjid every evening empty handed, with the hope of getting an iftar platter. Uzair's family hosts one of the four mass iftar meals in the mosque's courtyard, primarily for such people. "In the initial days, we organise iftar meals for 200 people. We keep increasing the number every week thereafter. By the last Friday of the month, we have iftar meal arrangements for around 1,000 people," says Uzair, who procures fruits in bulk from Azadpur mandi and has a chef at his house, who cooks snacks every day throughout the month.
According to one Hadith or narration from the life of Prophet Muhammad, he is believed to have encouraged his followers to arrange iftar meals, in whatever capacity possible. Thousands of Muslims have been organising mass iftar programs worldwide since then. In the Middle East, the USA and the UK, there are institutions, committees, organisations and even government bodies that organise mass iftar programs. In India, it is common to find individuals, gatherings and RWAs sending iftar meals to neighborhood mosques. Families like Uzair's do their bit by organising mass iftar meals inside Jama Masjid.
Effectively, it means that if you are passing by a neighborhood mosque during iftar time, just enter the mosque and you will get an iftar meal there for you to break your fast. "Many needy people, women, children and travelers have nowhere but the mosques to go to for iftar. Apart from residents of the locality, people involved in management of all mosques keep enough supply of evening meal," says Mehtab Rahi, an Old Delhi resident.
At the left corner, right after the main entrance of Jama Masjid, is another dining spread for devotees. Nooruddin, 26, claims that his grandfather, Haji Habibuddin, was the one to start this practice in the mosque around 80 years ago. "He begun by offering meals to devotees at mai ka mazaar (a shrine right outside the mosque) and later shifted the custom inside the courtyard," says Nooruddin.
Gradually, other groups started hosted dining platters at different points in the courtyard that is as big as a football ground.
Nooruddin, along with six to 10 men from his family, continue to feed 200 people every month.
Make no mistake. You don't have to be on a fast or a Muslim to be able to relish iftar meals. People from all faiths, ethnicities and states throng the grand mosque. "Mass iftar meals give a sense of belonging and togetherness to the Muslim brethren. At the same time, it is a way to bond with people from diverse backgrounds," says Nooruddin.
For some families, iftar in Jama Masjid is a picnic-of-sort. For others, it is a ritual as they solely depend on mass iftar meals to break their fast, while others just happen to be here.
Tarun Sharma, an I-T professional and Noida resident is a regular to Karim's restaurant in the Walled City but this is his family's maiden visit to Jama Masjid. The recently launched Delhi Metro's Heritage Line was what prompted hima nd his family to come visit the grand mosque in Old Delhi. The Sharmas are actually taken by surprise to see different groups of people offering them iftar platters.
"We got late and happened to be here during sunset. I have attended iftar parties, but this is a different experience. We have got so much food that we had to say no to offers of iftar platters later," said Tarun.
Mohammad Mustaqim, a rickshaw puller, has been coming to Jama Masjid for iftar for the past seven years. "I came here for the first time to pray and thinking that I may get something to break my fast. I had no idea about the scale of meals here. This is a blessing," he said.
For many people, iftar is followed by dinner at the nearby Matia Mahal.