Ban super bikes in Delhi, families shouldn't suffer: Benelli crash victim's kin
Aug 16, 2017 11:44 PM IST
Father of Himanshu Bansal, who was killed while riding Benelli TNT 600i in central Delhi, said he was fond of bikes but not speeding. They wanted him to buy a car instead but he insisted
Two days after a 24-year-old man was killed after he lost control of his sport bike and crashed into the wall of Lady Irwin College near Mandi House, his family says they want super bikes banned in Delhi.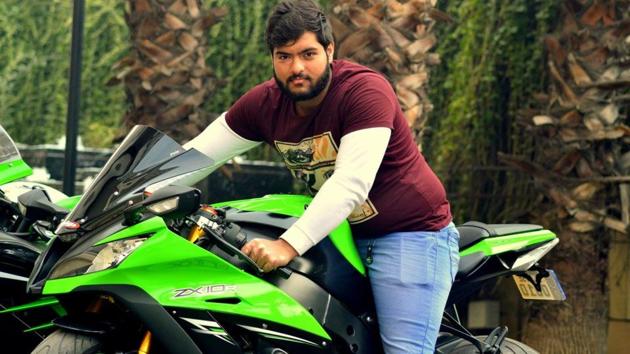 The deceased, Himanshu Bansal, was riding a 600cc Benelli TNT 600i, which can go up to 200 kilometres per hour. "The roads in Delhi are not meant for super bikes. They are for foreign countries such as Australia and USA where the population is less," said his father, Suresh Bansal, who runs a utensils manufacturing business in Jhilmil Colony and lives in Vivek Vihar in east Delhi.
The local MLA supported the family's views.
"The pavements are broken at so many places. The roads are dug up. Ideally, in a city like Delhi these bikes should not be allowed so that children cannot force their parents to purchase such bikes," said Jitneder Singh Shunty, former MLA and the deceased's neighbour.
"We don't want another family to suffer what we are going through," he said. Though the police said Himanshu and his two friends could have been speeding that night, Bansal is sure that Himanshu never drove rashly and that he was only fond of bikes not speeding.
His mother Kusum Bansal said, "I would say to all the people in Delhi not to give bikes to their children. We made a mistake, they should not repeat it."
According to the family, they did not want to buy a bike for Himanshu. They offered to buy him a car instead. But it was only when he insisted that they gave in. Himanshu bought the bike in November 2016 for Rs 7.25 lakh.
"Everyone in the family suggested he should buy a car for the same price. But he didn't listen to us," said his mother Kusum Bansal.
A family member, who did not want to be named, said: "He was demanding a bike since September. We kept delaying it. But he was persistent. He used to say I will stop eating if you don't get me the bike," he said.
The family also denied reports that Himanshu was a member of a 'super bike group'.
"Himanshu had gone to buy lights from a store in Connaught Place when he met with the accident. He was not associated with any bikers' group," Bansal said, while adding that he had asked him to take Innova to CP but he preferred his bike as the car was parked inside.
Himanshu was the second child of his parents. He has an elder brother. Himanshu helped run the family business.
Kusum Bansal, said before leaving for Connaught Place, he had gone to the temple for Janmashtami celebrations. He had to leave for CP. "I asked him to take car. He too was planning to go by Innova. But my elder's brother's Toyota Fortuner too was parked there which had to be removed for taking out the Innova. He could have taken any car. I don't know what happened that he decided to take the bike instead," she said.
His mother said that Himanshu had even purchased safety gears like gloves, knee and elbow guard but didn't wear it that day.