Delhi mall refuses entry to children of farmers who committed suicide
Jul 20, 2017 11:51 PM IST
Swaraj Abhiyan leader Yogendra Yadav said a manager with DLF Place, Saket, told them that the children would require "special permission" to enter its premises.
A south Delhi mall allegedly denied entry to a group of children from Maharashtra, whose parents committed suicide in the wake of agrarian crisis, Swaraj India president Yogendra Yadav has claimed.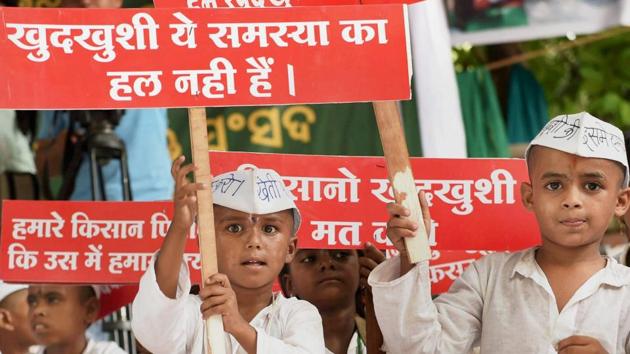 Yadav brought the kids to Delhi from a children's home in Nashik to participate in a farmer's protest at Jantar Mantar.
Swaraj India leaders said that on Wednesday evening, around 40 kids were taken to DLF Place, Saket, for an ice-cream treat.
"The children wanted to visit some place in Delhi. We took them to the mall as it was very hot outside. The guard was staring at them as soon as they entered the check point wearing kurta pyjama or salwar and a Nehru cap," Swaraj India Delhi president Anupam said.
Swaraj India volunteer, Rohini, who was accompanying the children, said when she went to get a trolley because one of the kids had an injury in his leg, a security guard said the kids were not allowed inside.
"The guard said they had not taken any permission. They asked us to take the children out," she said.
The children stay at an ashram that houses children whose parents committed suicide owing to the farm crisis.
The party alleged that there was a quarrel between its volunteers and the mall management.
"The children were reportedly allowed inside only after I said journalists would be visiting the place for interviewing these kids and a senior management official intervened," she said.
A mall official issued a press statement saying, "Yesterday evening, a group of children and adults sought entry to the mall. As it was such a large group, dressed alike, our security guard enquired about their agenda. After ascertaining the purpose of their visit, the senior management provided a conducted tour of the mall and offered refreshments," she said.
"Understandably we exercise abundant caution to ensure safety and security of all visitors. We always welcome everyone with open arms and happily conduct tours for children from schools and other institutions upon request, she added.
Tow which Yadav said it was only after that the senior manager thought it would snowball into a controversy they allowed entry. They then even gave biscuits to children to save them from any embarrassment.
Anupam said, "The mall officials treated them well later which was more a damage control exercise than genuine concern for the kids."