Delhi sealing drive: AAP holds protest, says leaders thrashed, detained
Jan 29, 2018 10:30 PM IST
AAP leader Saurabh Bharadwaj claimed that protesting party leaders — including Ashutosh, Richa Pandey, Dilip Pandey — were thrashed and detained by the Delhi Police.
The Aam Aadmi Party (AAP) on Monday alleged that many of its leaders, including women, were thrashed while being detained by police at Parliament Street during a protest march against the ongoing sealing drive in Delhi markets.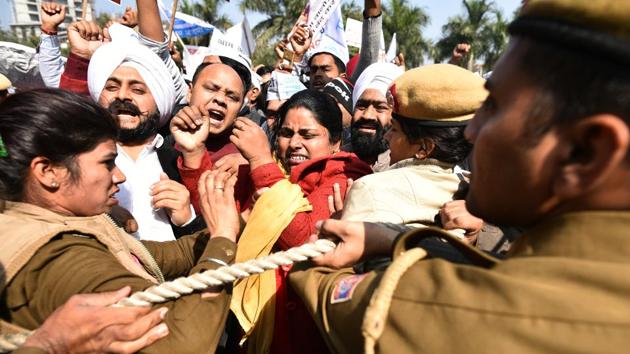 The police, however, denied the allegation and said "some party MLAs" were detained for defying prohibitory orders around Parliament as the Budget Session was underway.
"The Delhi Police mercilessly beat up Ashutosh at the protest march against sealing of markets in Delhi. He was forced into Parliamentary Street Police Station using a rope. MLAs and MCD councillors were protesting peacefully but Delhi Police started unprovoked lathicharge and beat up female volunteers," AAP spokesperson Saurabh Bharadwaj tweeted.
Intensifying its stir against the ongoing sealing drive by civic bodies, AAP had announced its decision to hold a march from Patel Chowk Metro Station to Parliament House. Workers, leaders and MLAs led by Gopal Rai assembled at 11am and started the march. Some leaders, including Ashutosh, Richa Pandey and Dilip Pandey, were detained by the police at Parliament Street Police Station.
"Yes, we detained a few AAP MLAs as they had tried to gherao Parliament defying the prohibitory orders. They did not have any permission to protest. No one was beaten up and all such allegations are baseless," said DCP New Delhi, BK Singh.
The party has sought a stay by Union government on the ongoing sealing drive. It is also demanding an ordinance to amend building bylaws. The AAP has alleged that the BJP-ruled civic bodies have been harassing traders under the garb of sealing drive.
Police file FIR against AAP
Police said that a splinter group of AAP leaders, instead of confining themselves to a designated place near Jantar Mantar, had started moving towards Parliament House despite prohibitory orders in place due to the Budget Session.
"Even after multiple requests and warnings they refused to go. Defying all persuasive efforts by the police, they started marching towards the Parliament House. Minimal force was used to restrain them. They were detained in Parliament Street police station and were let off after in some time," said Madhur Verma, Delhi police spokesperson.
He said eight police personnel sustained injuries in the process. Police also lodged an FIR against AAP leaders for obstructing policemen in discharge of their duties and causing hurt.
"We have lodged an FIR and action would be taken accordingly," he said.
Drama outside L-G house
Later in the day, the drama shifted to Lieutenant Governor Anil Baijal's house where a group of AAP lawmakers staged a demonstration till they were called for a meeting. This was after Baijal had refused to meet the MLAs in response to a letter by MLA Saurabh Bharadwaj who requested him to ensure that Master Plan 2021 was amended to resolve the issue of sealing due to conversion charges and floor area ration beyond permissible limits.
"Finally, L-G met our MLAs and said he will take up the issue with Union government," said an AAP spokesperson.
Officials of Delhi's three municipal corporations are supervising a sealing drive that started last month in accordance with the instructions of a Supreme Court-appointed panel. Shops and restaurants being sealed have either not paid conversion charges, the premium for converting residential premises into commercial ones, or have flouted permitted floor area ratio (FAR) norms.